10 November 2021 | People | Redman Wines
How to Choose Wine as a Gift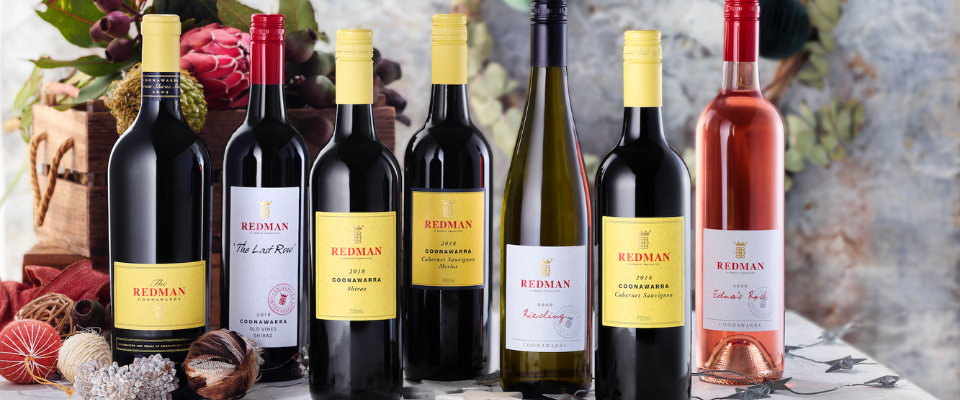 There's nothing finer than receiving a beautiful bottle of wine as a gift. Call it the gift that keeps on giving. Wine is a great go-to gift option for many occasions. Whether you're looking for a Christmas gift for Dad, a token of appreciation for colleagues or the boss, a milestone memento, a dinner-party contribution, or other special occasion, wine can answer the call.
What's more, as a gift, wine is convenient, available for any budget, and, if selected appropriately, memory-making for the recipient. The challenge, however, is knowing which wine to buy, especially when you may be unsure about what somebody likes – or doesn't like. Let these simple tips and tricks guide you when figuring out how to choose wine as a gift.
The Gift of Wine: Go Big!
Big format, that is. If you want a wine gift with wow factor, choose a large-format bottle, such as a magnum (1.5 litres, or the equivalent of two bottles of wine) or an imperial (6 litres, or equal to eight bottles of wine). These big bottles not only make a bold statement, but also lend an air of grandeur and drama to a special occasion, make for impressive centrepieces on any dinner table, and are perfect for sharing among large groups.
Alternatively, Go Small!
In this instance, we're talking about small, family-owned wineries, not bottle size. Small-scale wine producers are competing with multimillion-dollar wine-producing behemoths for your wine gift purchases. This is not to say that the industry giants don't make great wine – many do. But wouldn't you rather see your money and your gift of wine support these small, independent producers?
There are other benefits to seeking out the smaller producers, too. In these vineyards and at these wineries, winemakers handcraft their wines with special care and attention, and the resulting wines are often true expressions of the wine region from which they come, such as our beloved Coonawarra. It's that special something that makes the wine unique – of terroir and place that comes only from a particular site.
What's more, when you give the gift of wine from a smaller producer, it's like you're letting your recipient in on a well-kept secret.
What Goes with Wine as a Gift?
Food, of course! This can be handy in a couple of wine gift-giving scenarios, as you often take wine along to an occasion. First, if you are going to a long alfresco lunch, family dinner or traditional Christmas celebration, perhaps you can ask about the menu in advance? That way, you can either pick the brain of an expert at your local bottle shop or do a bit of Googling on your own to find an appropriate match for one of the planned dishes. For example, for the festive season, Redman Cabernet Sauvignon is the perfect match for Beef Bourguignon, and Redman Shiraz works a treat with Roast Pork Belly.
If you need to contribute a dish to an affair as well, our French Baked Brie recipe is a real crowd-pleaser that you can pair with a lovely bottle of Redman red wine.
Match Wine Gifts to Special Occasions
If you're choosing a wine gift for a specific occasion, such as a special birthday, anniversary party or retirement send-off, it's a nice idea to try to match the wine to the milestone. For example, if it's a birthday gift, you might want to try to find a wine from the recipient's birth year. Likewise, if it's an anniversary, you could choose a bottle from the year of the couple's wedding or the place they got married, if it happens to be near a good wine region. (Australia has a lot of them, after all.)
Often, you can ask a bottle shop or call the winery directly to find out whether they have any back vintages from specific years. You may find that some wineries are happy to get the winemaker to sign the bottle for an added special touch. Alternatively, if your recipient is celebrating an event in the current year (and it's a good vintage), you could ask the bottle shop or winery for a high-quality, age-worthy wine that your recipients could cellar to celebrate another momentous occasion in the future.
Packaging Particulars: Labels, Wine Gift Boxes and More
In some cases, choosing the right bottle as a wine gift can be as easy as looking at the label. We don't recommend this strategy all the time, as we're firm believers that it's important to know the quality of the wine in the bottle, but sometimes what's on the outside of the bottle is just the thing.
Perhaps your friend, family member or co-worker shares a family name with a winery. Or maybe the label is particularly elegant, beautiful, or otherwise unique, or has been designed by an artist you know they like. Then again, perhaps the wine label just tells a story that you know will make your recipient laugh, smile or remember a special moment you've shared.
Wine gift boxes also add a lovely touch and can take your wine gift to the next level. They add a touch of glamour to your gift-giving. A nice wine gift box can be a nice keepsake and adds a little more theatre to the present.
So, what is the best wine to give as a gift? Redman wine, of course! We've even put together some wine gift boxes to help fulfil all your wine gift-giving needs. Explore our gift range.
Comments
Commenting has been turned off.