27 September 2017 | Recipes | Redman Wines
Roast Pork Belly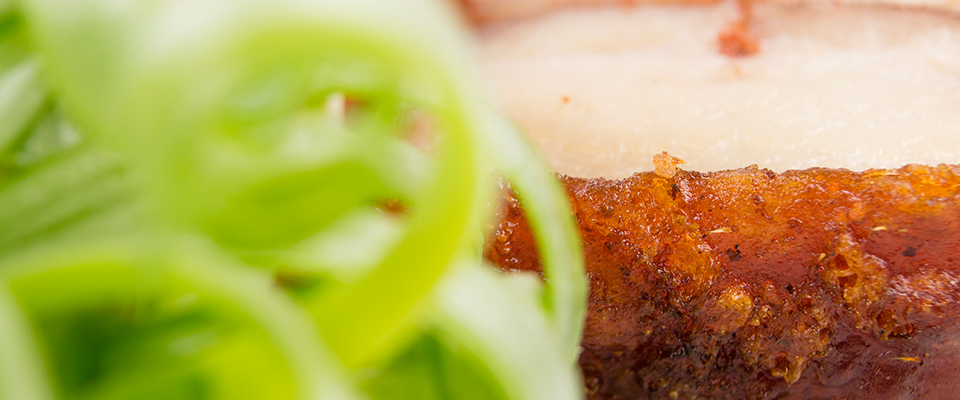 Pork belly can be a tricky cut of meat to cook but we've mastered it with this fantastic recipe from Winnie Redman, Dan's mum. This Roast Pork Belly with Apple & Avocado Salsa is the perfect match for a glass of our Redman Shiraz. Enjoy!
Roast Pork Belly:
2 garlic cloves
2 teaspoons flaked sea salt
Olive oil
1.5kg boneless pork belly, skin scored Pound thyme, garlic and salt together in a pestle and mortar and rub over pork flesh.
Drizzle with a little olive oil. Roast pork, skin-side up, in preheated oven at 220°C for 30 minutes. Reduce heat to 160°C and add ¾ cup of water to the pan,cook for a further 2½ hours in the last 20 mins turn oven up to 220* again. Allow to rest for 20 minutes. Carve and serve with crackling, cabbage and salsa.

Apple & avocado salsa:
1 granny smith apple, peeled,
diced 2 ripe avocados,
diced 3 spring onions,
sliced ½ cup coriander leaves
½ green chilli, seeds removed,
chopped 1 lime
Mix apple and avocados with spring onions, coriander leaves, chilli and grated zest of lime. Squeeze over juice from lime; season to taste.

Cabbage with bacon & chilli:
1 small cabbage
2 tablespoons olive oil
250g pancetta or bacon,
chopped ½ teaspoon crushed dried chilli
1 clove garlic peeled
Discard outer leaves of cabbage; finely shred.
Heat oil in large deep frying pan or wok; add pancetta or bacon. Cook for a couple of minutes, stir in cabbage, chilli, garlic. Stir-fry for about 4 minutes over high heat; add 2 tablespoons water, reduce heat, cover. Cook for a further 3-4 minutes or until cabbage has softened, but still has a bite. Season to taste.
Comments
Commenting has been turned off.