14 August 2020 | Recipes | Redman Wines
Beef Bourguignon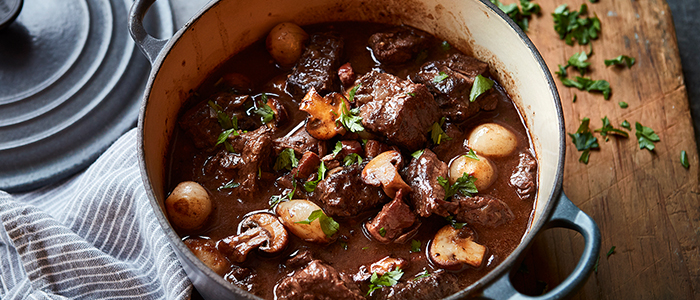 A Redman family favourite, Winnie Redman's beef bourguignon recipe is moreishly good on a cold winter's night. Enjoy with creamy mashed potato, some green veg and a glass of Redman Cabernet Sauvignon.
Ingredients
175g rindless bacon rashers, chopped
900g chuck steak, cut into 2.5cm cubes
2 Tbsp plain flour
3 Tbsp sunflower oil
2 Tbsp butter
12 shallots
2 garlic cloves, crushed
2 1/3 cups mushrooms, sliced
450ml red wine
150ml beef stock
1 bay leaf
2 sprigs each of fresh thyme, parsley and marjoram
Salt and ground black pepper
Method
Preheat the oven to 160c. Heat a large flameproof casserole, then add the bacon and cook, stirring occasionally, until the pieces are crisp and golden brown.
Season the flour with salt and pepper and use to coat the meat. Use a slotted spoon to remove the bacon from the casserole dish and set aside. Add the oil, then brown the beef in batches and set aside with the bacon.
Add the butter to the casserole dish and cook the shallots and garlic until they are beginning to colour, then add the mushrooms and cook for a further 5 minutes. Return the bacon and beef to the casserole and stir in the wine and stock. Tie the herbs together with some kitchen string and add to the casserole.
Cover and cook in the oven for 1.5 hours, or until the meat is tender, stirring once or twice during the cooking time. Season to taste and serve.
Image source: BBC
Comments
Commenting has been turned off.