15 March 2021 | Wine | Redman Wines
The ultimate guide to pairing red wine and chocolate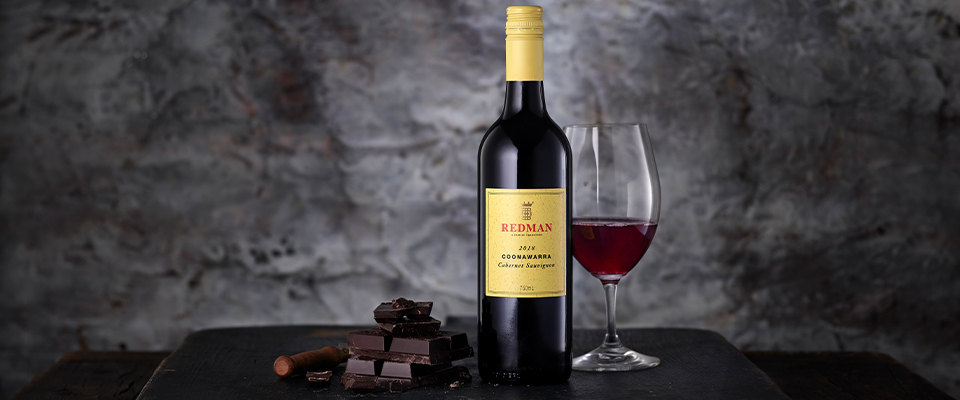 If you normally enjoy your Shiraz or Cabernet with a juicy steak, hearty braise or rich stew, it may come as a surprise to you that red wine and chocolate are the perfect pairing. Read on to discover what makes chocolate and red wine such a great flavour combination, then experience this flavour bomb for yourself with our delicious recipe for Red Wine Chocolate Cake – the perfect Easter dessert.
With Easter around the corner, now is the best time to experiment with red wine and chocolate. To help you make the most from bottle to bar, we break down why chocolate is the perfect partner for red wine, and share a simple guide on how to pair your favourite red wine with your chocolate of choice. Let's go!
Why does chocolate go with red wine?
While they are not grown in the same parts of the world, chocolate and red wine have a lot in common. Chocolate grows in warm, humid tropical regions, while wine grows in more temperate Mediterranean climes shaped by long sunny days tempered with cool nights and refreshing breezes. However like wine, chocolate has a unique terroir. This means the specific place, altitude and climate the cocoa beans are grown in and harvested affects the flavour and texture of the chocolate.
The name of the plant that produces chocolate is Theobroma Cacao, which literally translates to 'food of the gods' (now you can see why chocolate and red wine is such a great match!). While there are thousands of grape varieties, there are only three major varieties of Theobroma Cacao – criollo, forastero and trinitario, with a few hybrids in the mix. Each type of cacao brings a unique flavour profile, with cacao percentage and the chocolatier's roasting and tempering techniques also affecting the end product. This means you have room to play when pairing your favourite red wine with your stash of Easter eggs.
Chocolate and red wine are a good match as they have complementary flavour profiles. This means they exhibit the same flavours, so you can pair wine and chocolate by picking those with similar profiles to really enhance the flavours in your glass. Think of common tasting notes for our Coonawarra reds: earthy, fruity, rich, dark, juicy, forest fruits, cassis, berries, toasty, woody, tannic – these flavours can also be found in chocolate, especially dark chocolate.
Now that we know chocolate and red wine are a power couple, it's time to work out which chocolate to pair with your favourite wine.
How do you pair dark chocolate and red wine?
When it comes to pairing your favourite red with chocolate, a general rule of thumb is the more full-bodied the red wine is, the higher percentage of cacao you can pair it with.
The black pepper and warm spiced notes of Shiraz, work with the red berry notes of medium intensity dark chocolate. Try dark chocolate with 50%-60% cocoa content and experiment with berry flavoured dark chocolates, such as bars that contain freeze-dried raspberries, or pralines with strawberry or cassis fillings.
Try this handmade Rocky Road from Dickin's Delights with our Redman Shiraz. It combines a delicious mix of raspberry jubes, shredded coconut, roasted almonds and fluffy marshmallows smothered in dark chocolate – all the flavours you need to stand up to the spicy, juicy notes of our Shiraz.
Dark chocolates with 70% to 100% cacao are intense and range from bittersweet to semisweet. They feature a combination of roasted, fruity, earthy, woody, ashy or nutty notes and call for bolder, full-bodied red wines that have concentrated fruit flavours. Lovers of wincingly bitter dark chocolate will get the most from pairing it with our Redman Cabernet Sauvignon. This varietal is full-bodied and can stand up to the high cocoa content of 70%-90% dark chocolate.
Can you drink red wine with milk chocolate?
While dark chocolate is our top choice to enjoy with red wine, we understand that not everyone loves dark chocolate. Milk chocolate is sweeter and more mild than dark chocolate due to a higher content of milk solids and sugar, and lower content of cacao. So if you're looking for a wine to pair with milk chocolate, you'll need to go for one that can complement these milky, creamy butterscotch flavours. Typically a wine that exhibits caramel, raisin flavours such as a Riesling or Muscat.
Try these styles of wine with Dickin's Delight Caramel corn, which is a moreish combo of popped corn kernels covered in their melt-in-the-mouth toffee with just a hint of sweet chocolate.
How to drink red wine with chocolate
Now for the fun part! For the best tasting experience, take a small sip of wine first. After a few seconds, take a bite of the chocolate, allowing it to melt and warm up on the palate. Do not chew it! Let it melt in your mouth. This way the flavours to emerge as the chocolate melts in the heat of your mouth. Then, take another sip of wine and enjoy the ride.
Red Wine Chocolate Cake Recipe
This Red Wine Chocolate Cake is a Redman family favourite, and will certainly be on our Easter menu again this year. It's a gloriously moist chocolate cake with added richness and depth thanks to the addition of the red wine to the cake batter. We used Redman Shiraz, but you could use any of our fruity, medium- to full-bodied wines in this recipe, such as our Redman Cabernet Sauvignon. Serve with a glass of Redman Shiraz or Cabernet for full effect!
Read more…
Red Wine Chocolate biscuits – yes they are as good as they sound. Get the recipe here
Shake it up with these three red wine cocktails to serve over the holidays.
Comments
Commenting has been turned off.