5 August 2021 | People | Redman Wines
Brothers In Arms - Celebrating 40 Vintages At Redman Wines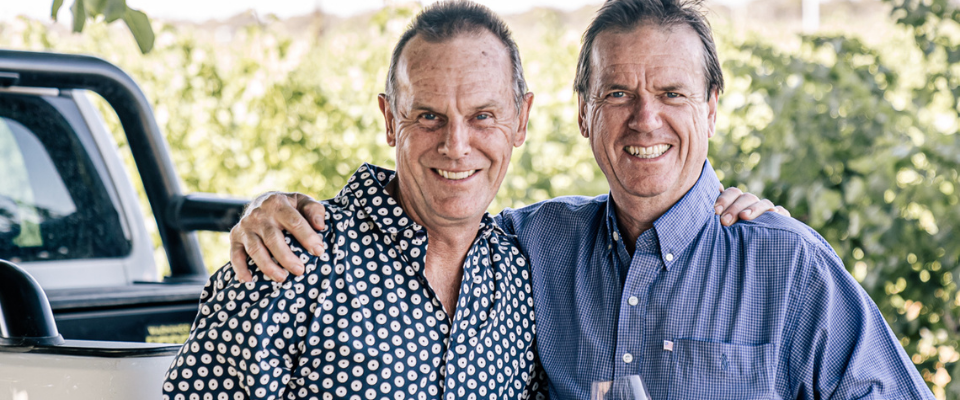 The wine and grapes are tucked safely away in the winery – another vintage of Redman wines waiting patiently in barrel until they're ready at the perfect time for wine lovers to enjoy. Although every vintage comes with its tales and challenges, 2021 was a particularly memorable one for Redman brothers Mal and Bruce, who are celebrating 40 consecutive vintages working together in the family business.
It's always been about family at Redman Wines, which Bill Redman started back in 1908, later passing the reins to his son Owen in 1954. The Redman family is part of the fabric of Coonawarra – locals very much tied to winemaking in the region. Bruce and Mal joined their father Owen in September 1981 to coincide with Owen's last vintage. The two brothers would jointly take responsibility for Redman Wines' winemaking.
Both born and bred in Coonawarra, Mal and Bruce have a special story – one full of mateship, persistence and good humour. Here, they reflect on the evolution of Coonawarra and Redman Wines over the past 40 years as well as on what the future holds.
Bruce and Mal Redman: Celebrating 40 Vintages at Redman Wines
"We are privileged to be in a business with four generations and more than 110 years of history," says Bruce. "Making wines with a consistent style and quality – regardless of the trends – has allowed us to build a loyal multigenerational clientele. Mal and I are incredibly proud of what we've achieved and equally excited to witness the passion of the next generation of Redmans for the business."
Mal echoes these sentiments: "Working together has been an easy task, as ultimately, we have had the same goals in mind – to produce the best possible wines under the Redman family label. We've been able to understand each other's needs and work side by side in running the family business. Some say that we work almost by osmosis! We're so familiar with our work routines that we often can go about what we're doing without needing to say anything further."
Much has changed at Redman over the years, but the winemaking philosophy remains true to Bill and Owen's original vision. The sheer number of brands has increased from approximately 300 wineries when the winery started to now more than 4,000! Winemaking is no longer a cottage industry here; it's a valuable asset – both nationally and internationally. The diversity of the Australian wine landscape presents so many opportunities.
The magnitude of 40 vintages is not lost on the family. Deb Redman, Mal's wife, is continually amazed when she hears Bruce or Mal talking to customers about wines that are 30 to 50 years old and being able to describe the growing conditions, flavours and story of that particular vintage. This ability exemplifies not only their enthusiasm and passion for making the wines of the last 40 years, but also the knowledge and understanding they've garnered from their father and grandfather.
The journey has not been without its fun times. For example, at the Australian wine stand at the World Wine Fair in Bristol in the UK in 1980, Bruce put himself in a dubious spotlight when he would introduce himself as a winemaker from Australia. Though this may seem reasonable enough, he was doing so at the same time a Monty Python Australian wine skit was not highlighting Australian wine in the most flattering light. With the skit using wine names such as "Sydney Syrup" and "Chateau Chunder", it's no wonder the Brits were hesitant to try Bruce's wine. Luckily, they were pleasantly surprised by the quality!
Changing Consumer Preferences
Consumer tastes over the past 40 years have likewise changed, with a big shift towards table wines and dry red wines. Having a brand that's been around for more than 65 years means there have of course needed to be tweaks. But both Mal and Bruce agree that it's been important to maintain the Redman style and consistently produce red wines true to the original Redman vision. That means wines that are medium-bodied, elegant and reflective of their Coonawarra home.
Bruce and Mal love nothing more than sharing tales from the past, and you can often find them in the cellar door telling these stories. "The market has changed from buying wine to put in the cellar to buying wines to drink today," says Bruce. "As a result, the white wines tend to be fresher and brighter, and the red wines softer with little or no tannin astringency – rounder and fruitier."
Redman's wine club and direct customer relationships are critical to the family business. It still gives Bruce and Mal a buzz to be in the cellar door and hear stories of how their wines have helped define moments for their customers. For instance, a customer in his 20s recently came into cellar door, saying, "Yes, this is the same label as the bottle we drank three nights ago." When pressed on what vintage it was, the young man revealed it was from 1979 – a bottle raided from his grandpa's cellar. Stories like this are common, and they inspire the team to make sure that there's wine for future generations to discover.
In addition to being about family, it's also always been about reds at Redman. But the team also does not shy away from understanding what customers want to drink. For many years, Redman produced only shiraz and cabernet, with cabernet merlot introduced in the 1990s. Bruce and Mal have recently introduced riesling and rosé into the mix – an important move to broaden the range. Plus, tiny parcels of single-vineyard releases have been critical to bringing customers a broader choice.
The brothers introduced the flagship wine, The Redman, in 2008 to celebrate 100 years of the family growing grapes and making wine in the region. They continue to refine this special wine as an homage to the family name.
Technical Equipment and Winery Enhancements
You know you've been around a long time and come a long way when enhancements to the winery include items we'd now think of as must-have elements, such as refrigeration!
"When we first started, we continued the Old World winemaking of our father and grandfather," says Mal. "We picked early, with lower Baumé; hot ferments; and larger, older oak barrels in which to mature the wines. However, as the wine industry had a renaissance in the 80s, we tweaked some of our winemaking practices to adapt to more modern ways but that would still allow us to stay true to the original vision."
Bruce and Mal have introduced smaller oak barrels, improved the fermentation draining and refined their filtration techniques. Making some technology improvements has given them a broader range of cultured yeasts to choose from and adopting screw caps across the wine range has helped ensure quality. The Australian wine industry was quick to embrace screw caps, and Redman began transitioning to screw caps from the 2014 vintage.
"In the vineyard, very little has changed – not even our vineyard manager John Lavia, who's been with us in nearly all of our time," says Mal. "Much of the vineyard work is still very hands-on, with John treating the vineyards as if they were his own. Traditional two-wire vertical trellising, cane and spur hand-pruning, and careful monitoring of the growing conditions every year produce the exceptional-quality fruit that have become representative of our wines."
The Redmans continue to grow grapes in the same iconic vineyards. They've worn out two grape harvesters, three grape crushers and a horizontal basket press. And they're still using a wine pump from 1928. "We've often been ahead of our time with vineyard practices," says Mal. "We de-stem and crush grapes in the vineyards at the time of picking, so we deliver only clean grape must into the winery, and leaving the MOG [matter other than grapes] in the vineyard. This concept has now become commonplace, but we've been doing it for more than years. It makes for a real point of difference in our wines."
Most Memorable Vintages
"Every year in Coonawarra is a good year," says Mal. "Vintages become memorable for different reasons – machinery breaking down, wine tanks or barrels overflowing onto the floor, long hours. A few particularly memorable ones include the 1985 vintage – the biggest ever recorded, and a long and tiring season, with every available tank in the winery full to the brim." Or 1994, when Mal suffered a broken leg and was relegated to the office. He'd switch the pumps on and off while Bruce did all the work in the winery.
What the Future Holds
Clearly, maintaining the vision of their forefathers is important to the Redmans, and now there's a fourth generation of Redmans, with Mike and Dan Redman buying into the business in 2020. Though it need not reinvent itself, a brand steeped in tradition still needs to evolve and tweak. "We're really focused on nurturing the relationship we have with our customers and continuing to introduce new members to the Redman story," says Bruce.
What's more, the Redmans continue to make their wines with great balance and structure. They're ageworthy but also drinkable now.
Another key project is making sure Redman has sustainable vineyard and winery practices in place to ensure continuity of the brand for years to come. "The impact of climate change is real, and we're working hard to look at sustainable practices, such as solar panels, to drive electricity; drip irrigation for water conservation in the vineyard; and more evolved viticultural techniques to ensure the health of the vines," says Mal.
And although shiraz and cabernet will always be the hearts of the Redman brand, climate change may present some opportunities to experiment with other, non-traditional grape varietals. Exciting times ahead.
But family comes first for Bruce and Mal, and their friendship and familial connection remain their greatest triumph. Here's to the next 40 vintages!
Comments
Commenting has been turned off.