The Redman Family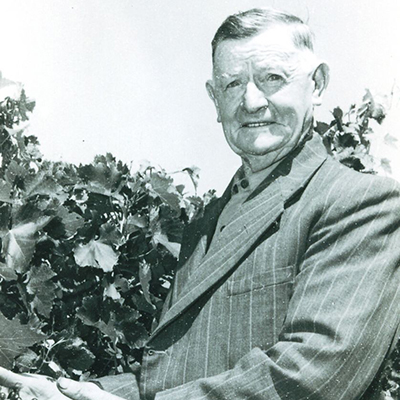 Bill Redman
(1887 - 1979)
One of the founding fathers of Coonawarra, the Redman wine story very much began through the perseverance and hard work of Bill Redman. Let us share the tale of how he came to have such a presence and put Coonawarra on the Australian wine map!
William (Bill) Redman was born in 1887, the sixth in a family of seven boys and three girls. His father, John Redman, originally from Manchester, was a railway ganger based in Stewart Range. The family lived in a weatherboard cottage along the railway line and ran the local post office.
In 1901, at the age of 14, Bill and his older brother Dick (Albert), 16, caught the train to Coonawarra to look for work. They had just enough money to pay for their tickets but nothing else. The pair arrived at John Riddoch's winery (now Wynns Coonawarra Estate) after walking over two hours from the iconic Penola railway station (now known as The Railway Siding). It's the place where this journey of wine for Redman very much began.
The Redman brothers were soon put to work at a salary of £1 per week. Bill was quite small, so he was offered a job in the cellar, while Dick picked grapes. It was a tough life: they worked 12 hours each day during the week and six hours on Saturday. After vintage finished, Bill was offered a full-time position while Dick returned home.
Bill stayed on at the winery for six years. He reached the position of head cellarman by the age of 19, then left to undertake farm work in Pinnaroo, 250 kilometres north of Coonawarra. However, the hot climate didn't agree with him, and he soon returned south. Bill would never work outside the region again.
In 1908, Bill purchased 40 acres from the original Riddoch subdivisions for £900. He couldn't afford it, but as the estate couldn't sell it, they offered it to him at a very low interest rate: £150 deposit with the balance due in 10 years at 4% interest. Bill had £150 in the bank and just enough to buy some horses to work the vineyards later. The estate had also agreed to pick all the grapes from the first vintage at their own expense. During that first vintage, 100 tonnes were picked. The Riddoch estate paid £4 per tonne for them, netting Bill £400 within a few months without any effort. His first vintage had just paid off over half of his debt.
By this time, most of the Redman family had moved to Coonawarra, and Bill worked on a dairy farm with his father and two of his brothers until he was able to make his own wine. He soon went into partnership with his father and brother Robert, and John Redman and Sons was born.
Bill procured a grape crusher from a teetotaller on the agreement that he wouldn't sell his wine in the local area. He didn't have a proper press, so he used a tiny cheese press instead, and he didn't own a fermenting tank, so he simply knocked the tops off hogsheads and used them for fermentation. Bill made his first wine under the family name in 1909.
Inspired by conversations with Lieutenant Colonel David Fulton (a fellow winemaker and proprietor of Woodley's Wines) about the lighter style red wines made in Bordeaux, Bill innovated a dinner claret more delicate than the rich red wines common to the time. Bill began picking his grapes earlier than usual (when they didn't contain as much sugar) so that the resulting wine was lower in alcohol but still rich in colour and tannin. Hereafter the price was raised to £6 per tonne for his grapes.
Bill would only ever bottle a small amount of wine, preferring to sell the bulk of his grapes to other wineries and wine merchants. Bill's wife, Lilian, was a strict Presbyterian, and the Redman household was also teetotal. From the time they married, they didn't have a drop in the house.
The wines Bill made weren't always released under the Redman label, though he always received wonderful accolades from his peers. The wine he sold to Woodley's – bottled under Woodley's Treasure Chest Series or St Adéle Claret – won Woodley international recognition.
After World War II, Bill's son Owen joined the family business. By this time, the Redman family owned 500 acres of grazing land, 40 acres of vines, and 30 acres of orchard.
In 1947, Owen was awarded the top prize at the Adelaide Wine Show. This greatly enhanced the reputation of the family winery and helped to establish Coonawarra as a wine growing region. Following this, the Redman family were involved in major developments across the region, entering joint venture agreements with Penfolds and Mildara.
Bill retired in 1954-55 but remained actively involved in the business until it was sold to Lindeman's in 1965. A taciturn man, Bill always held enormous pride for what he had achieved in Coonawarra, and the reputation the region was receiving for its red wines.