11 November 2021 | Recipes | Redman Wines
Ricotta Gnocchi with Bacon, Brussels Sprouts and Cherry Tomatoes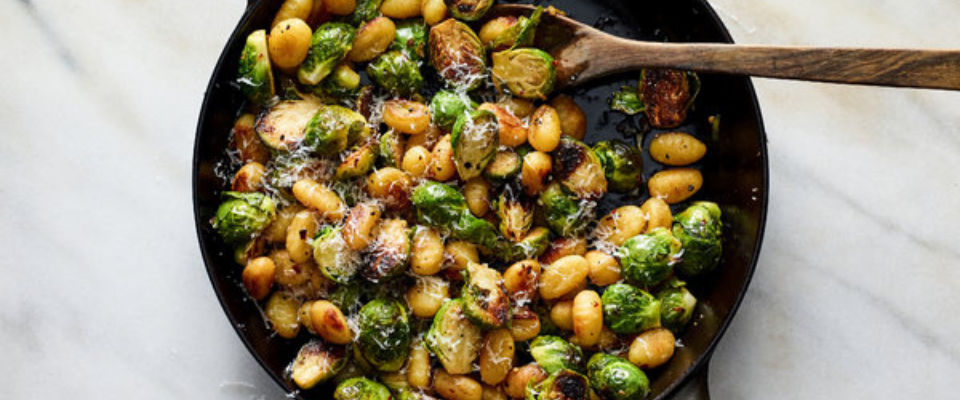 A summer dining staple, this ricotta gnocchi recipe is simple and savoury. The bacon adds a satisfying salty hit, and the fresh vegetables bring Mother Nature's bounty to these delicious little pillows of pleasure. It's a Redman family favourite.
Ingredients
500g ricotta
1 egg
100g grated parmesan
100g plain flour, plus extra for rolling
½ tsp mace or nutmeg
50g butter
8 rashers streaky smoked bacon, cut in 3cm pieces
300g brussels sprouts, shaved
2 punnets cherry tomatoes 
½ cup flaked almonds, lightly toasted (optional)
Finely grated pecorino, to serve
Method
1. To make the gnocchi, put ricotta through a mouli grater into a large mixing bowl. Add egg, parmesan, flour and mace or nutmeg and season with salt and freshly ground black pepper. Combine using your hands, being careful not to overwork the dough. 
2. Divide dough into four pieces and roll each on lightly floured surface into 3cm sausages. Cut into 3cm pieces and place on lightly floured tray. 
3. Bring a large pot of salted water to the boil. Melt butter in a large frying pan over medium heat. Cook gnocchi in batches, gently placing them in boiling water until they rise to the surface. Use a slotted spoon to transfer gnocchi to frying pan. Cook gnocchi in butter for a few minutes, turning, until golden brown.
4. In another lightly oiled frying pan, cook bacon for 3 to 4 minutes. Add brussels sprouts, season with salt and freshly ground black pepper, and cook for a few more minutes, until sprouts are wilted and slightly browned. Transfer bacon and sprouts to a bowl. Use the hot frying pan to slightly blister the tomatoes. Add the bacon and sprouts back to the pan. Toss through the gnocchi. Serve immediately drizzled with pan juices and sprinkle with almonds, pecorino and freshly ground black pepper.
All that's left to do is pour you and your dinner guests a nice glass of Redman Riesling to pair perfectly with the meal.
For more great recipes to serve up in summer, try these:
Orecchiette with Peas, Asparagus and Burrata
Image source: 2021 The New York Times Company
Comments
Commenting has been turned off.