11 January 2021 | Recipes | Redman Wines
Red Wine Cocktails
We love our Shiraz and Cabernet Sauvignon, but they're not usually the first ingredients that come to mind when you're thinking about making a red wine cocktail. However, for many years red wine has been mixed with a range of spirits and has been used to create some of the world's classic cocktails. It's always good to have a few cocktail recipes on hand that you can easily whip up to impress your guests – especially over the summer months – so here are a few of the most popular red wine cocktails to enjoy.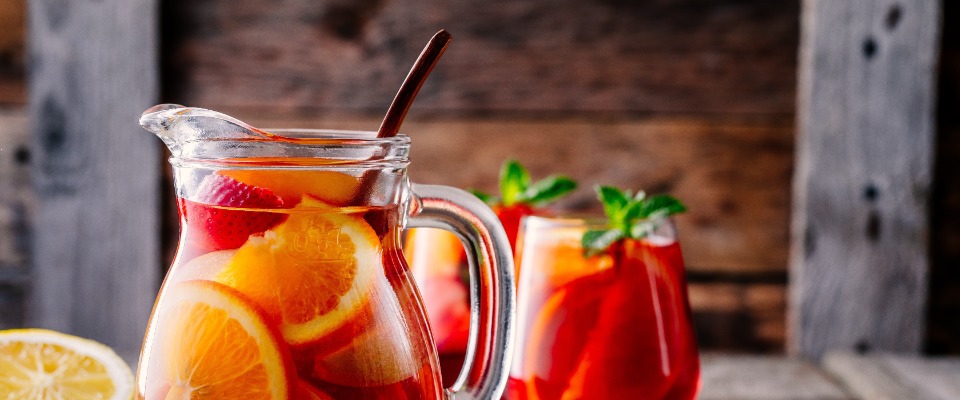 When it comes to famous red wine cocktails, there are the classic Spanish summertime punches such as sangria and tinto de verano meaning 'summer red wine'. Punches mix wine with fresh cut fruit – such as apples and oranges – with orange juice or soda water. These are perfect for sipping on a warm afternoon, but there are plenty more ways to use red wine in cocktails. Here are some of the classics:
The Bishop
Looking for a classic old world red wine cocktail? The Bishop is the best place to start. The oldest version of this recipe dates all the way back to 1862. Back then it was more like a sangria, but over time it has evolved to a refined rum-based cocktail. You'll want a golden añejo rum, like the ones made in Spanish-speaking countries such as Cuba, Nicaragua, or Venezuela. This will complement the flavour of the red wine, whereas richer dark rums made from molasses (like the ones from the Caribbean) or rhum agricole (from some French-speaking countries) will overpower it. This recipe has been adapted from a popular version from the 1930s.
Makes 1
Ingredients:
50ml golden añejo rum (like Havana Club)
30ml red wine (such as the 2019 Redman Shiraz)
1½ tsp honey (or simple sugar syrup)
1½ tsp lime juice
Ice cubes
Method:
Place the rum, red wine, honey and lime juice into a cocktail shaker.
Fill with cocktail shaker with ice, then cover and shake until chilled.
Strain into a chilled cocktail glass and enjoy.
New York Sour
For a truly impressive cocktail worth raiding the cellar for, why not shake up a New York Sour? It's a refreshing, dark fruity drink that combines the sweetness of bourbon with the vibrant notes of red wine and a kick of fresh lemon juice for zing. Despite the name, the drink in fact hails from Chicago and not New York. It's thought it was first created in the 1880s by a Chicago bartender looking to add a little "snap" to his sour, and originally went by the names Southern Whiskey Sour, Continental Sour or Claret Snap. Whatever the origin, this red wine sour is a great cocktail for red wine drinkers looking to mix things up this summer.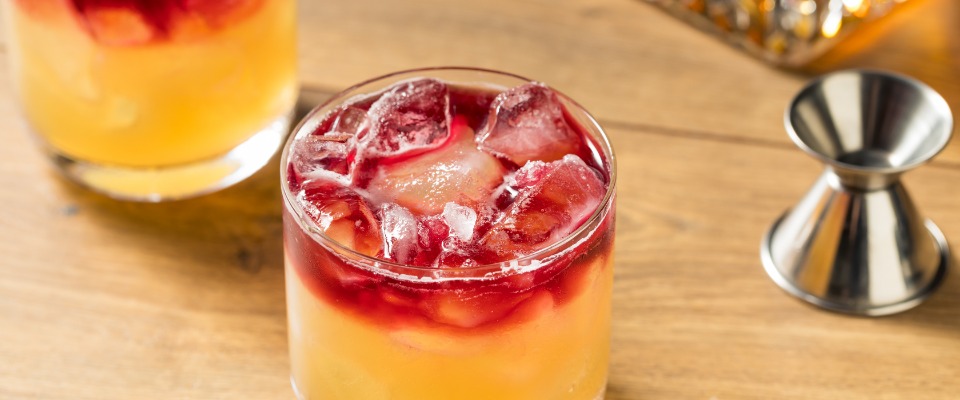 Makes 1
Ingredients:
60ml rye or bourbon whisky
30ml lemon juice
30ml simple sugar syrup (2:1 ratio of sugar to water)
20ml red wine (such as the 2019 Redman Shiraz)
Ice cubes
Method:
Place the whisky, lemon juice and sugar syrup in a cocktail shaker.
Fill with ice, then cover and shake for 30-40 seconds to combine. Strain into a short glass filled with ice cubes.
Gently pour the red wine over the back of a spoon held just above the drink's surface so the wine floats on top. Serve immediately.
Rosé Wine Cocktail
Yes, rosé still counts as a red wine cocktail! Sometimes you just want something light, refreshing, and aromatic, and that's where this fantastic rosé cocktail comes in. Mixed with a splash of your favourite gin and garnished with slices of citrus fruit – this cocktail turns the humble glass of rosé into a special occasion.
Serves 1
Ingredients:
120ml rosé (such as the 2021 Redman Edna's Rosé)
30ml gin
2 slices of lemon
2 slices of grapefruit
15ml simple sugar syrup, to taste
Ice cubes
Method:
In a large chilled glass, place the ice, rosé, and gin.
Twist one slice lemon and one slice grapefruit over the glass before adding and stir well.
Add the simple sugar syrup to desired sweetness and garnish with the remaining slices of lemon and grapefruit.
Don't forget to save some of your Redman wine to enjoy later in your entertaining. While cocktails are always a fun party starter, there's nothing better than unwinding with a glass of your favourite Coonawarra wine.
We'd love to see what you make with your Redman wines! Don't forget to share your Redman wine cocktails by tagging us #redmanwines on Instagram!

Comments
Commenting has been turned off.