23 October 2019 | Recipes | Redman Wines
Beetroot & Lentil Burgers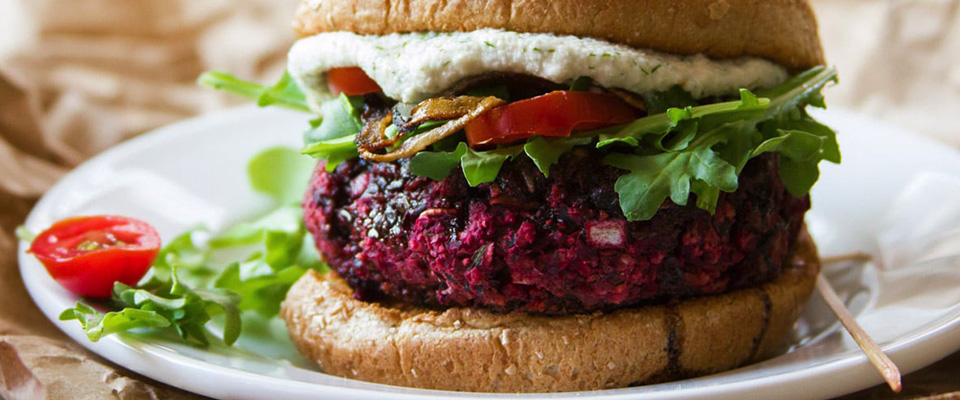 This beetroot and lentil burger recipe is a Redman family favourite. Make them in advance, pour yourself a glass, heat up the BBQ and enjoy when friends gather. We recently cooked up a storm accompanied by a bottle of 2014 Redman Shiraz. The spices in the burgers perfectly complement by the spicy, fresh shiraz flavours. An absolute cracker.
Ingredients
2 tblsp olive oil
1 onion, finely chopped
2 cloves garlic, minced
1 small red chilli, finely chopped
250g cooked brown lentils
325g raw beetroot, grated
1 egg
1 tsp ground turmeric
1 tsp garam masala
2 tsp smoked paprika
1 tsp finely grated ginger
6 tbslp plain flour
Salt and pepper to season
For Hummus Beetroot
125g tinned beetroot
2 tsp beetroot liquid
100g can chickpeas
1 garlic clove, crushed
1 tblsp lemon juice
1 tblsp tahini
For Avocado Dressing
1 ripe avocado
2 tblsp tahini
3 tblsp lime juice
1 garlic clove, crushed
1 tsp salt
To Serve
Fresh burger buns
Your favourite lettuce or green leaves
Method
First, make the patties. Heat olive oil in pan and fry onion, garlic and chilli until soft. Allow to cool.
Mix onion mixture, lentils, egg, beetroot, spices and ginger together. Sprinkle in the flour one tablespoon at a time until incorporated.
Shape into burger patties and allow to rest in fridge while you prepare the Beetroot Hummus and Avocado Dressing.
To make the Beetroot Hummus, process all ingredients in a food processor unti smooth and creamy.
To make the Avocado Dressing, whisk together the tahni, lemon juice, garlic and salt then toass through the roughly chopped avodao.
When you are ready to eat, fire up the barbecue and heat a few tablespoons of olive oil. Once the oil is very hot, fry the burgers for 2-3 minutes on each side until golden.
You can enjoy the patties with the hummus and avocado on the side, or pile it all into fresh burger buns. Some sweet potato fries make an excellent accompaniment.
Note: The patties are best made the day before cooking but not essential. Mayo will also work well instead of the hummus.
Comments
Commenting has been turned off.