25 February 2021 | Recipes | Redman Wines
Red wine jus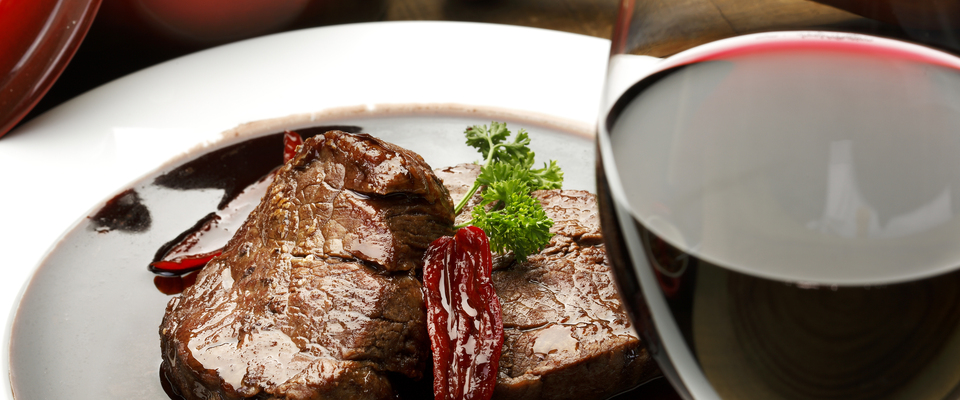 Red wine jus is the perfect sauce for steak.
What is red wine jus?
Jus is a French culinary term for a specific type of sauce made from the 'juice' (aka 'jus') of cooked meat, which is why it is typically served as an accompaniment to meat. It's made by reducing wine and meat stock with onion and Mediterranean herbs until you have a rich, flavoursome and highly concentrated sauce.
While you're probably more familiar with jus on restaurant menus than serving it at home, it's actually pretty easy to whip up a red wine jus to serve with your next steak or roast. All you need is some good-quality beef stock and red wine at home. Read on for our easy recipe.
What's the difference between gravy and jus?
While jus is similar to gravy – another sauce that's ideal to serve with meat made using the meat's cooking juices – there is a difference between the two. Gravy is thickened with flour, while jus is reduced for a longer time until it reaches the desired consistency, which is usually thinner than gravy. It takes longer to reduce jus to a silky, viscous consistency than it does to cook gravy, which is likely the reason you tend to see jus on restaurant menus more often than in home kitchens.
Which wine is best to make red wine jus?
It's easy to drink red wine with meat, and when pairing it for cooking, the same principles apply. When making red wine jus, opt for a full-bodied red such as Shiraz or Cabernet Sauvignon – as you would when choosing a wine to pour in your glass to go with beef, lamb or veal.
Cabernet Sauvignon is dry with a rich palate of cassis and black fruits such as blackcurrant, black cherry and plum. While Shiraz has concentrated jammy aromas along with big, ripe tannins and spicy peppery notes. Both will result in a rich, aromatic jus to complement your favourite cut of steak, roast beef or barbecue.
We suggest using our Redman 2018 Cabernet Sauvignon or 2018 Shiraz in the following jus recipe, and of course as a wine pairing in the glass when you are ready to serve.
Easy Red Wine Jus
An easy recipe for red wine jus to serve with steak.
Ingredients
2 tbs butter or olive oil
1 brown onion, finely chopped
2 garlic cloves, crushes
1 bay leaf
1 rosemary sprig
4 thyme sprigs
250ml red wine, we recommend Redman Cabernet Sauvignon or Redman Shiraz
500ml beef stock
25g chilled butter, cut into small cubes
Instructions
Melt the butter in a medium saucepan over low heat.
Add the onion, garlic, bay, thyme and rosemary and cook, stirring, for 6-8 minutes or until the onion is pale golden and softened.
Add the red wine and stock and bring to a boil, then immediately reduce heat and simmer until liquid is reduced by at least half. Strain, discarding the solids.
If you are cooking your steak in a frypan, you can finish the jus off in the frypan to incorporate the meat cooking juices while your meat rests. And if you are cooking your steak on the barbecue, you can return the jus to the same saucepan you used in the previous step, and pour in any juices that come from the meat as it rests. Return the liquid to the pan and reduce further over medium heat until mixture is hot and thick enough to coat the back of a spoon. Add the cold butter piece by piece, stirring constantly, until you have a thick, glossy jus. Season to taste, then serve with your steak.
More recipes using red wine
Cabernet Sauvignon Short Ribs
Beef Bourguignon
Red Wine Cocktails
Comments
Commenting has been turned off.