28 May 2020 | Recipes | Redman Wines
Cabernet Sauvignon Short Ribs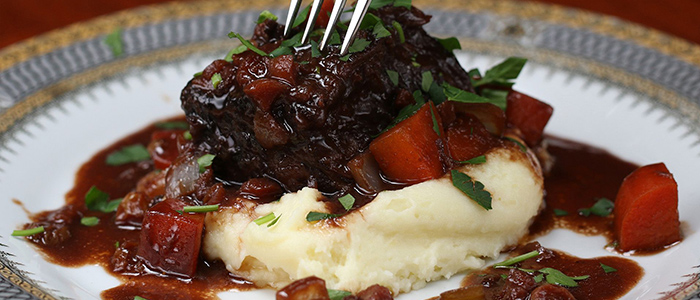 Who doesn't love tucking into a big plate of ribs that fall off the bone and require lots of napkins to clean the mess off of your face and fingers?
This recipe cooks the ribs long and slow in a rich red wine sauce. They're an impressive dish, perfect for entertaining and go great with anything from chunky chips to coleslaw or mashed potato. We dare you to try this dish and not fall into a satisfying food coma.
Ingredients
6 large beef short ribs, trimmed of excess fat
2 tablespoons flour
Marinade
2 stalks celery, cut into 2 cm pieces
2 medium carrots, peeled, cut into 2 cm pieces
1 leek, white part only, split lengthwise, coarsely chopped
6 cloves garlic, peeled
1 bay leaf
4 sprigs fresh thyme
1 bottle Redman 2018 Cabernet Sauvignon
Sauce
2 tablespoons olive oil
2 tablespoons tomato paste
2 L beef stock
Method
In a large bowl, mix together all marinade ingredients. Cover with plastic wrap. Marinate for at least 6 hours, or overnight in the fridge.
Remove the meat from the marinade and pat dry with paper towel.
Strain the vegetables from the wine. Reserve both the wine and vegetables for later.
Preheat the oven to 180˚C.
Season the meat with a generous amount of salt and pepper. Coat each side with flour and set aside.
In a large ovenproof pot, heat the olive oil over medium-high heat on the stovetop. Carefully place ribs into the pot and cook for 4 to 5 minutes, or until browned. Transfer ribs to a plate.
In the same pot, sauté the reserved vegetables for 5 to 7 minutes until softened and lightly caramelised.
Add the wine to the pot, stirring to deglaze. Add tomato paste and stir to dissolve. Bring the liquid to a boil so the alcohol from the wine evaporates.
Add the beef stock and bring it to a boil. Add the ribs back to your pot. Spoon the liquid over the ribs to coat them.
Cover the pot and transfer to the middle rack of your oven. Bake for 2.5 hours, or until meat is tender enough to be separated with a fork. Check the meat every 30 minutes and carefully skim the fat from the surface.
Serve with your favourite sides and enjoy!
Serves 6
Original Recipe: Tasty
Image Source: Pinterest
Comments
Commenting has been turned off.