16 April 2020 | Wine | Redman Wines
What's the difference between Shiraz and Cabernet Sauvignon?
Cabernet Sauvignon and Shiraz grapes both have a long history in Coonawarra. They are the grape varieties that we're most famous for, having been planted by some of the regions pioneers like John Riddoch and our own Bill Redman back in the early 1900s. Nowadays, these two popular red grape varietals represent 80% of the regions vineyard plantings. Whilst wine connoisseurs around the world often know that these wines taste slightly different, there's often a fascination with the nuances of these particular grapes and how different they actually are to grow in the vineyard. Dan Redman explains all you need to know about our favourite red grapes.
Shiraz and Cabernet Sauvignon have a lot in common. Both are thick-skinned grapes with intense hues and are responsible for making distinctive, flavoursome wines. They often have a deep purple colour in the glass, especially in the early years after harvest. In Australia, for the 2019 vintage Shiraz is absolutely the dominant red grape varietal, responsible for 44% of total red wine crushed, whereas Cabernet Sauvignon sits at 27%. They are distinctive styles produced depending on the region where they are grown but often will be enjoyed with more flavoursome meat dishes (think steak, stews and the like).
Here are some of the other differences you can expect to find:
Berry size
The size of the grapes are distinctively different and one of the things that helps viticulturalists and winemakers easily identify the variety in the winery. Shiraz grapes/ berries, are much larger in size than Cabernet Sauvignon. This makes a difference in the winery in how the fruit is handled given that the Shiraz will be juicy with less tannins. The Cabernet gives a more structured style which means they have the ability to lay down and gives the age-ability.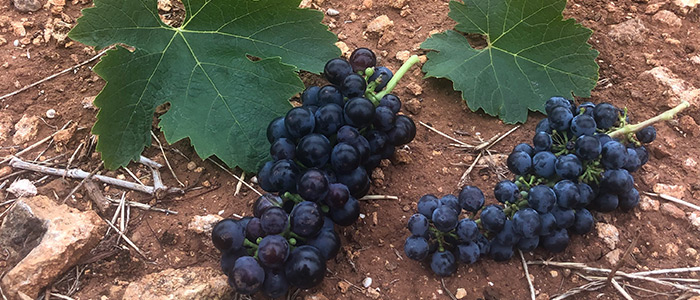 Leaves
As you'll see in the image below there's distinct differences in the actual leaves for both the varietals. The Shiraz leaves are much larger in size than you'll see for Cabernet Sauvignon. There's also a slightly darker colour to the Shiraz leaves.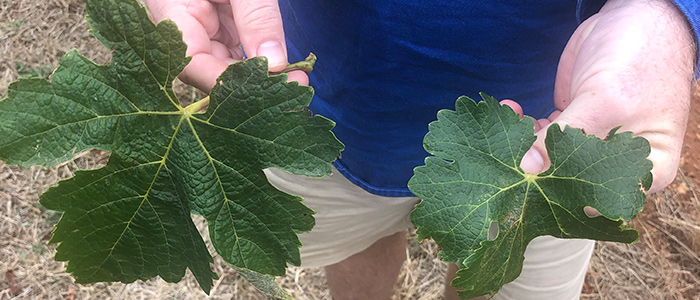 Aromas
The aromas of these varietals are what the true wine connoisseur will often distinguish first in a glass. Shiraz can often display a spicy, peppery or slightly smoky/ meaty aroma. Cabernet Sauvignon on the other hand has more of a fragrance of blackberry, mint, leather or cassis.
Flavours
Obviously there's a slightly different taste between the two red varietals, especially here in our Coonawarra home. Shiraz wines are well known for their rich and juicy mid-palate. You can expect to taste flavours of pepper, spice and sweet red fruit. We also often get a different feel on the palate, strong on the front in the mouth and on the finish but with a slightly different mid-palate feel. Cabernet Sauvignon on the other hand are often delivers more cedar, tobacco or blackcurrant flavours.
You'll also often see these two varietals blended which gives a different characteristic to the wine. A classic combination for which many Australian wine brands become famous.
Which is better Shiraz or Cabernet Sauvignon?
It's a common question, but the response would be like asking us to name our favourite child! The wines have very different structure so it very much comes down to personal choice. Cabernet is often more angular in feel, whereas Shiraz often has a more smooth and fine grained texture. It might surprise you to learn that we actually make more Shiraz than Cabernet Sauvignon at Redman Wines, it's always been that way but by no means is one preferred over the other, just a difference in our vineyard plantings and the wines are often consumed on different occasions.
Keen to try these wines?
If you're keen to do a taste test for yourself, we have created a Shiraz v Cabernet Twin Pack so you can explore the differences yourself and decide on which is your favourite.
Comments
Commenting has been turned off.