30 August 2021 | Recipes, Wine | Redman Wines
Using Oak Barrels to Smoke Food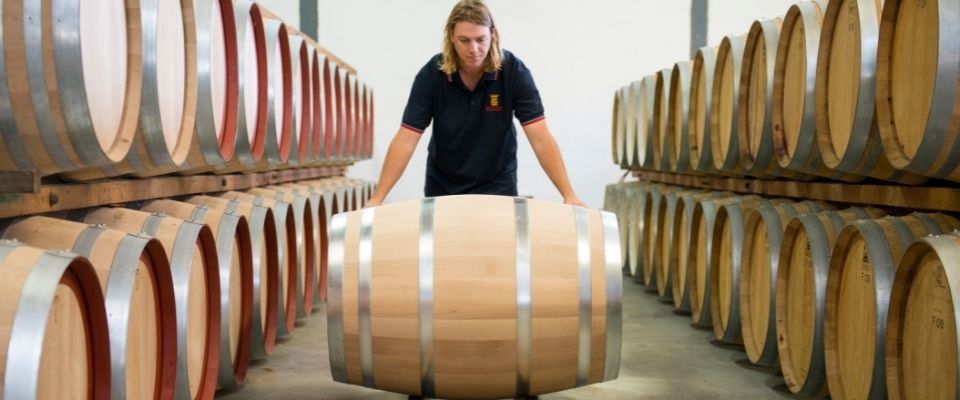 Winemakers have long known that oak can impart nuanced flavours into their wines, which is why they often use a variety of types of oak barrels to ferment and store their wines as part of the winemaking process. But now, keen barbecuers are also recognising the complexity and benefits that oak chips can bring to their food and are getting in on the action.
Food smokers have recently become all the rage on the barbecue scene, with outdoor home cooks buying up dedicated smokers or using wood and smoke in their existing barbecues. The process of smoking food is about flavouring, browning, cooking or preserving it by subjecting it to the smoke from burning materials – in many cases, wood.
You can use any number of woods (and flavours of wood) in your smokers. Different wood varieties will impart their own unique and subtle flavours. However, we're starting to see a particular new consumer trend emerge: using former oak wine barrels to smoke meat and other foods.
What's the Trend?
It turns out, environmentally friendly, recycled red and white oak wine barrels that have been cut into chips, chunks or staves provide a great way to impart a smoky flavour – with wine overtones – into your meat, pork, poultry, fish, and even cheese and vegetables.
Oak, as a hard wood, is perfect for the barbecue or smoker. Plus, it imparts its sweetness, smokiness and spiciness to whatever's on your barbecue menu. Add to this the hints of red wine infused in the oak from these former wine barrels, which bring their own strong aromas and essences to your dishes, intensifying their flavours.
Old Oak Barrels Being Put to Good Use
At Redman, we've seen an increased demand for wine barrel wood, with avid barbecuers and suppliers coming to us to buy our old barrels to use for smoking food. We've always thought about how we can re-use and recycle as much as possible throughout our processes, even using the must from our grapes in cooking, so this trend takes things to a whole new level.
In addition to sourcing your barrels from wineries (not all of them want to part with their oak, mind you!), you can find wine barrel chips, chunks and staves online. Crabtree's Smokehouse sells 500-gram tubs or 3-kilo bags of chipped oak wine barrels on its website. Ironwood Smokers likewise sells 1-kilogram bags of red wine barrel oak chunks. Aussie BBQ Smoke offers oak wine barrel chunks from a number of varietals, including Pinot Noir, Chardonnay and Cabernet. The Red Spoon Co sources its oak wine barrel wood chips from both US and Australian suppliers. It's also worth doing a search on eBay. You may also be surprised to learn that some Bunnings stores carry these products.
Smoked Food Recipes
Once you've got your wine barrel oak chips, it's time to get smokin' – and eating! We've trawled the web for some of the most popular smoked food recipes that we think would benefit from the wine overtones that old wine barrels can instil in food.
Pork belly, for example, is a great meat for smoking, given its fat content, and this smoked pork belly barbecue recipe will make you a favourite among your family and friends. The French oak wine barrel sawdust that the recipe calls for will infuse the pork with a subtle wine aroma along with smoky flavour.
If barbecue always means beef to you, try this wine barrel oak smoked beef tri-tip from Low Carb Papa. The recipe uses wine-soaked barrel staves (though chunks or chips are okay, too) to bring the aromas of vaporising red wine to your meat. With its smokiness, too, it makes for an outdoor meal with a real rustic feel – perfect for pairing with a bottle of big, bold red, like a Redman Shiraz.
If ribs or chicken are more your alfresco cooking style, this smoked chicken breasts recipe from Oklahoma Joe's is an easy dish to get you started on the art of smoking. It calls for just a handful of oak or hickory wood chunks, but we recommend going the wine-soaked oak route for just that added complement of flavour. Finally, for the vegetarians among you or just a simple and smoky side dish, serve up Masterbuilt's smoked potatoes recipe. Just swap out the recommended hickory chips for some cabernet-soaked chunks and taste the difference that those hints of red wine can make. Then pour yourself a glass of Redman Cabernet to sip alongside your spuds!
Happy smoking and bon appétit!
For other recipes that go nicely with our wines, try these slow-cooked beef and red wine pies or this Asian chicken salad.
Comments
Commenting has been turned off.