13 January 2020 | Recipes | Redman Wines
Asian Chicken Salad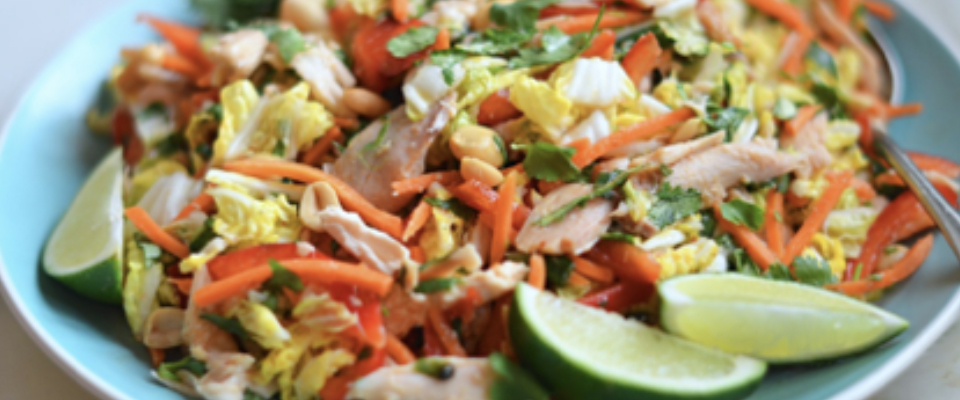 This tasty Asian Chicken Salad recipe is the perfect match for our rosé. It's a quick and easy summertime meal that's always a crowd pleaser with the Redman family.
Ingredients
5cm piece ginger, sliced
1 garlic clove, crushed
1 lemongrass stalk, roughly chopped
2 organic or free range chicken breasts, skin removed
1 stick celery, sliced diagonally
1 cup iceberg lettuc, shredded
2 Lebanese cucumbers, cut into thin 10cm strips
2 small carrots, cut into thin 10 cm strips
1/2 cup coriander leaves
2 shallots, cut into thin strips.
Roasted peanuts (optional)
Dressing
3 tbsp soy sauce
4 tbsp malt vinegar
2 teaspoons caster sugar
1 tbsp grated ginger
1 tsp sesame oil
Squeeze of lemon juice
Pinch of chilli flakes
Method
Place ginger, garlic and lemongrass in a large saucepan of water and bring to boil.
Add chicken, reduce heat to simmer and poach for 15 to 20 mins or until chicken is cooked through. Drain, cool then shred meat and place in a large bowl.
Meanwhile, blanch celery in boiling water for 30 seconds, then refresh.
Add to a large bowl with remaining salad ingredients, shredded chicken and peanuts (if desired). Stir all dressing ingredients together until sugar dissolves, gently toss through the salad and serve with a glass of Redman Edna's Rosé.
Comments
Commenting has been turned off.