11 November 2019 | Redman Wines
The history of Rouge Homme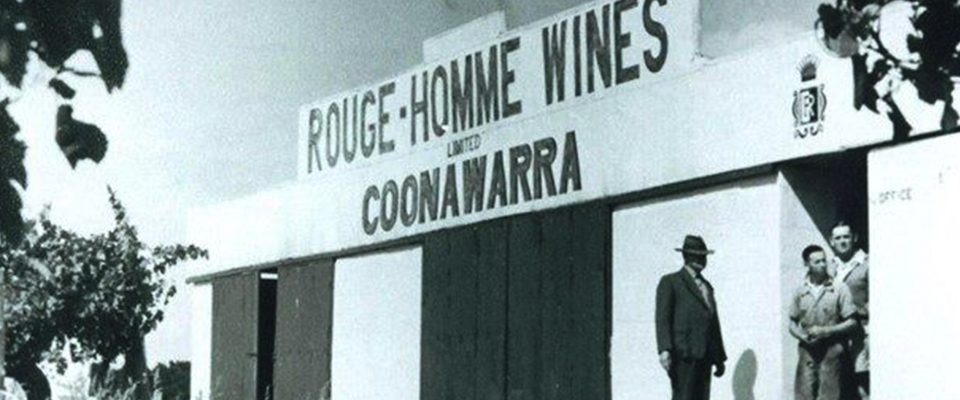 Rouge Homme is an intriguing tale spanning two World Wars, five generations (so far) and a family dedicated to not only growing and making great red wines, but building the foundations of a renowned South Australian wine region – Coonawarra. Let us tell you the story of this famous Australian wine brand…
The early days
Bill Redman first came to the Coonawarra region in 1901, looking for work. He was one of a family of ten, and he and his brother arrived by train from Stewart Range, west of Naracoorte, seeking work at what is now Wynns winery, but which at that time, was owned by John Riddoch. Bill was just 14. While his brother picked grapes, Bill ended up working in the cellar, and was offered a full-time job at the winery after vintage was over, where he remained for six years learning the ropes. After a brief spell away working in the wheat fields at Pinnaroo near the Victorian border, Bill returned to take up a position as head cellarman at Riddoch.
In 1908, Bill bought his own block of 40 acres in Coonawarra, selling his entire first crop of grapes to Riddoch to help finance his purchase. For the following few years, he remained the only grape -grower in the region producing red wine, selling them on to other wineries and wine merchants.
However, by 1909, Bill was also starting to make his own wine. His innovative instincts led him to develop what became known as 'dinner clarets', which were more refined and lighter than the heavy reds more commonly made and consumed at the time. For the following 30-odd years, Bill sold his bulk wine to other Australian wineries, including Tolley, Woodley and Yalumba.
What's in a name – from Redman to Rouge Homme
When Bill's son, Owen, returned from his military service in World War II, he joined his father to work in a winery that was fast becoming a burgeoning enterprise, due largely to the support from other grape growers in the region.
The 1933 Woodley's St Adele Claret, which won the best claret at the 1936 Brewers' Exhibition in London, was entirely a Coonawarra wine made by Bill Redman. By 1947, the family's (and the Coonawarra's) reputation was secured at the Royal Adelaide Wine Show, where Owen's first-ever entry took out the top prize. In 1951 the influential wine judge and commentator Rudy Komon visited Coonawarra and having been exposed to some of the wines as a show judge, wanted to taste some of Bill and Owen's wines for himself. Sadly, they didn't have any as it all had been sold. Rudy was rather disappointed and advised them to bottle some under their own label. This, however, brought them to something of a sticking point in terms of 1950s 'wine marketing'!
With the dominance of France and all things French being seen as the epitome of sophistication in the world of wine at the time, the name 'Redman' was deemed too 'ordinary' by the designer of Bill and Owen's wine label, so they came up with the inspired – and brilliantly simple – idea of rebadging their winery as Rouge Homme (which, of course, is the French translation for 'red man'). Problem solved. Fine red wines, delivered to Australian tables, with a suitably 'sophisticated' name.
In 1952, the Redman family released a limited stock of its own wine under the Rouge Homme label, initially, a blend of cabernet sauvignon and shiraz. For the next 13 years, the Redmans produced wines at the renamed Rouge Homme winery. The family also continued to be a major force in developing Coonawarra as an acclaimed wine region, picking up numerous awards for subsequent Rouge Homme clarets, and embarking on joint ventures with Penfolds and Mildara.
Redman bids Rouge Homme au revoir
By July 1965, the Redmans had sold up the winery, acreage and Rouge Homme label to Lindeman's, who not only considered the Rouge Homme label to be a valuable asset to add to its ever expanding portfolio, but Coonawarra as a region brimming with potential. Bill retired, Owen and his wife Edna purchased Arthur Hoffman's 16-hectare vineyard (much to Lindeman's disappointment as they thought they would have access to Arthur's fruit) and Owen's brother, Don, launched the first wine shop in the city.
Return to Redman – and Coonawarra
Despite having moved to Adelaide, Owen was determined to return as quickly as he could to the place and work he loved.
Owen and Edna launched their eponymous label in 1967 with a Redman claret from the 1966 vintage and, over the next decade, slowly increased their holding to 36 hectares, growing only cabernet sauvignon and shiraz grapes. All the wine made for the first three years was made at the neighbouring Brand's Laira winery, connected to the Redman family through Owen's sister, Nancy, who was married to Eric Brand, one of this wine region's founding fathers.
Owen continued in his role as winemaker at Redman Wines until 1982, when his sons, Bruce (a Roseworthy winemaking graduate) and Mal, took over winemaking duties. Now, Bruce's sons, Daniel and Michael, have joined the family business to continue this venerable Coonawarra family tradition.
But what of the Rouge Homme label? By the mid-1970s, interest from further afield was growing in Australian wines, and the industry here was enjoying considerable growth along with a growing respect for the quality of wines being produced. During that time and for some years beyond, Rouge Homme continued to be marketed and sold by successive corporate owners. The Rouge Homme winery was sold to the Digiorgio Family in 2001 and this was the death knell for Rouge Homme. Although still in production, sadly it is now a a very different wine to what the initial vision for the brand was.
A wine by any other name…
So what's next for Rouge Homme? Let's just say that the story of this proud Coonawarra label may have more chapters to be written. It is after all a name translated to mean red man. We are cognisant that there have been many loyal supporters of the style of wine that was produced over the years. Watch this space…
Comments
Commenting has been turned off.