2 October 2019 | People | Redman Wines
Owen Redman – Coonawarra Born and Bred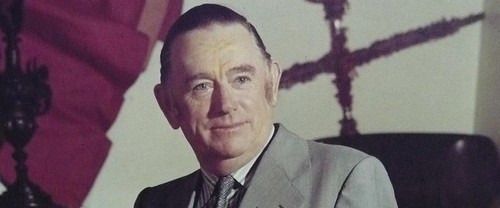 This month marks the centenary of the birth of the late Owen Redman, son of Redman's founder, Bill Redman and father of Mal and Bruce Redman. We celebrate Owen's memory and his abiding influence on winemaking in the Coonawarra region.
Owen Redman – Coonawarra Born and Bred
Owen Redman was born on 5 October 1919, becoming the first member of the Redman family to be born in the area and securing its association with Coonawarra and the region's winemaking history.
In 1901, Owen's father, William (Bill) Redman, arrived in Coonawarra at the age of 14 to work and learn his winemaking craft at John Riddoch's winery. In 1908, Bill purchased his own acreage in Coonawarra, selling that year's grape crop to Riddoch to finance the purchase. For many years, he was the only red-wine grower in the region, selling the bulk of his grapes to other wineries and wine merchants. He also, however, was an innovator, developing what were known as 'dinner clarets' – lighter bodied, more delicate wines than the bigger, riper reds common at the time.
In an interview in 2003, Bill's brother, Don Redman (1927-2019), remembered the winery and surrounding as a child: "My most vivid memory was principally apricots, plums, apples. Some of the blocks didn't even have vines on. Riddoch had planted a number of vines around the old winery, but the growers themselves only had small holdings. Only a small percentage was planted to vines… quite different to what it is now."
The early years of winemaking
Just a year into the outbreak of World War II, and just before enlisting in the army, Owen completed his first vintage with his father. It reaffirmed his desire to continue the family tradition of fine-wine making after the war ended. Returning from his wartime duties, Owen discovered the family winery had undergone surprising growth, due to the support it had received from local grape growers.
In 1947, Owen's first entry into the Australian show arena saw him taking top prize at the Adelaide Wine Show, which not only enhanced the reputation of the family winery but went some way to establishing the Coonawarra as a wine-growing region of note.
In the ensuing years, the Redman family was actively involved in all the major developments that occurred in the now-famous Coonawarra. After entering into joint venture agreements with both Penfolds and Mildara, and several significant accolades being awarded to the Redman claret under the label Rouge Homme. The name, of course, translates from the French to 'Red Man', and was chosen because the designer of the original wine label felt 'Redman' wasn't a good name, according to Owen's brother, Don.
"My grandfather, father and uncle had set up in business together," explains Bruce Redman, Owen's son, and co-owner of Redman Wines with his brother, Mal. "They had a vineyard and a sheep-grazing property. The vineyard grew and, when we sold to Rouge Homme, we had around 400 acres of grazing land and about 50 acres of vineyard. So, it was still predominantly a grazing enterprise."
Lindeman's decided that a winery of such high standing could make a valuable contribution to its portfolio. In 1965, the company purchased the original Redman property and renamed it Rouge Homme. Bill retired to Adelaide, where his sons also moved with their young families, opening one of the first wine stores in the city.
However, in 1966, intent on maintaining the Redman name and returning to live in his beloved Coonawarra, Owen and his wife, Edna, re-established the family winery by purchasing a vineyard owned by Arthur Hoffmann, a supplier of Rouge Homme grapes, which included six hectares of shiraz vines. Owen decided to plant all red grapes, as, according to Bruce, "He didn't think the future of Coonawarra was very bright for whites."
The Redman Wine brand is born
Owen and Edna started the Redman Wines label with Redman Claret, a 1966 vintage released in 1968, and, over the course of the next decade, increased their holding from 16 to 36 hectares, growing cabernet sauvignon in addition to shiraz. For the first three years of production, they used the facilities at neighbouring Brand's Laira to make the wines. Bill and Don's sister, Nancy, was married to Eric Brand, so there was a close family connection, as well.
Owen continued making wines until 1982, when his sons Bruce – a Roseworthy graduate – and his brother, Mal, took the winemaking reins. Until recently, Redman Wines continued to make just two dry reds, Redman Claret (100% Shiraz) and Redman Cabernet Sauvignon, until 1992, when the Cabernet Sauvignon Merlot was introduced in limited quantities.
Owen's grandson Daniel, the fourth generation of the Redman family to make wine in Coonawarra, joined the family business in 2008, exactly 100 years after his great grandfather made his first wine. Dan's younger brother Michael also joined the business in 2015.
Owen left a lasting legacy, a gentleman of Coonawarra who was known and loved by all who knew him. The Redmans are ensuring the traditions of Owen's wine growing and making practices will continue well into the future. Raising a glass to you Owen, Happy 100th Birthday!
Comments
Commenting has been turned off.