20 May 2020 | Redman Wines
Middle Eastern Roast Lamb and Potatoes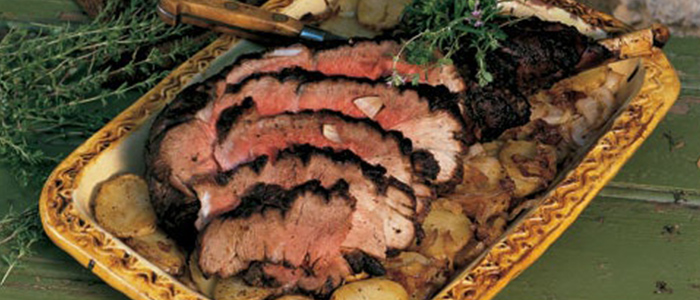 This aromatic leg of lamb will be the most incredible roast you have had in a long time! With the additions of garlic, lemon, saffron and herbs, it infuses the lamb roast with the most incredible flavour.
Enjoy this with your friends and family and serve it to your table with a bottle of our Redman 2017 Cabernet Sauvignon.
Ingredients
2.75kg leg of lamb
4 garlic cloves, halved
4 tablespoons olive oil
Juice of 1 lemon
2-3 saffron threads, soaked in 1 tablespoon water
1 teaspoon mixed dried herbs, oregano or thyme
450g baby potatoes, halved or thickly sliced
2 large brown onions, thickly sliced
Fresh thyme, to garnish
Method
Preheat oven to 180C.
Make eight evenly spaced incisions in the leg of the lamb. Press the halved garlic cloves into the slits and place the lamb in a large dish.
Mix together the olive oil, lemon juice, saffron mixture and herbs. Rub over the lamb, cover with plastic wrap and marinate for 2 hours.
Layer the potato and onion slices in a large roasting pan. Lift the lamb out of the marinade (reserve marinade) and place on top of the sliced potato and onions. Season well with salt and pepper.
Pour the reserved marinade over the lamb, then roast for 2 hours, basting occasionally. Remove from the oven and cover with foil, then rest for 10 minutes before carving. Garnish with thyme.
Serves 6-8
Image Source: Bon Appétit
Comments
Commenting has been turned off.