6 November 2017 | Recipes | Redman Wines
Mid-week Lamb Souvlaki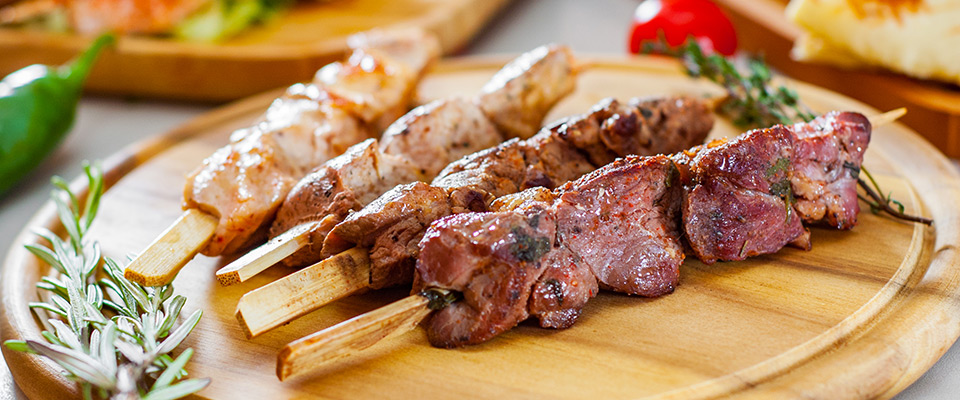 Spring and lamb go together like all those classic pairings. One pairing we really get excited about is Meg Redman's lamb souvlaki recipe matched to one of Redman's medium-bodied red wines, like Cabernet Sauvignon. This souvlaki recipe is super quick and easy and will jump into high rotation in your mid-week meal routine.
Ingredients:
1 teaspoon ground coriander
1 teaspoon ground cumin
1 teaspoon sweet paprika
1 tablespoon honey
1 garlic clove
finely chopped 2 tablespoons pomegranate molasses
1 tablespoon chopped flat-leaf parsley
1/4 cup chopped mint, plus extra to serve
1/4 cup (60ml) extra virgin olive oil
800g lamb rump, cut into 2cm cubes
4 vine-ripened tomatoes, chopped
1 tablespoon red wine vinegar
Warmed pita bread, good-quality baba ghanoush, and lemon wedges, to serve
Method:
1. Combine spices, honey, garlic, molasses, parsley, 1 tablespoon chopped mint and 1 tablespoon oil in a bowl and season. Add lamb, tossing to coat, and marinate in the fridge for at least 30 minutes or overnight. If using bamboo skewers, soak 8 in water for 30 minutes.
2. Preheat a chargrill pan or barbecue to medium-high. Thread the lamb onto 8 skewers. Cook the skewers, turning, for 10-12 minutes until charred but still slightly pink in the center. Rest, loosely covered, while you make the tomatoes.
3. Toss tomatoes, vinegar and remaining mint and oil together, then season.
4. Serve lamb with pitas, tomatoes, baba ghanoush, extra mint and lemon wedges.
Comments
Commenting has been turned off.