24 July 2018 | Recipes | Redman Wines
Meg's Winter Warming Chicken Soup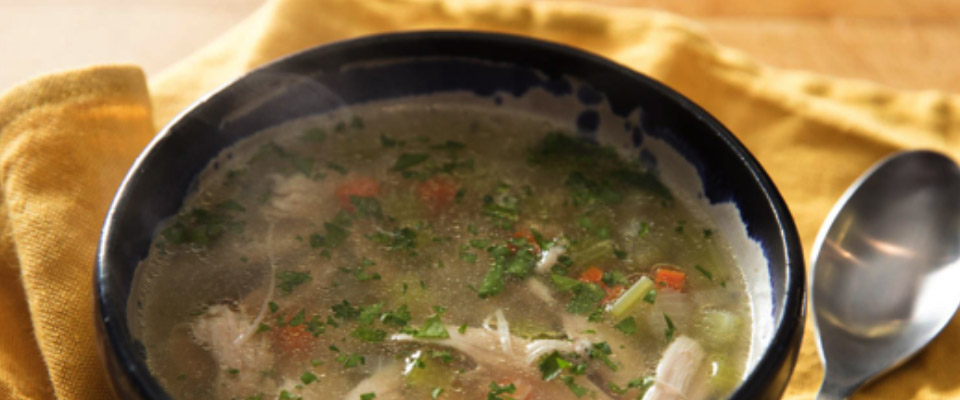 With healing and immune-boosting ingredients, this recipe for chicken soup will warm your soul and chase away winter blues and sniffles.
Ingredients:
1 (1.8kg) whole chicken
2.8L Chicken Stock
6 medium cloves garlic
2 sprigs fresh thyme
1 bay leaf
1 large carrot (230g), diced
1 medium turnip (200g), peeled and diced
1 large leek (250g), diced (white and light green parts only)
1 large parsnip (285g), peeled and diced
2 medium celery sticks (150g), diced
Salt and freshly ground black pepper
Finely chopped fresh dill, flat-leaf parsley, or other fresh herbs, to finish
Method:
1. Place the chicken in a large heavy-based stockpot. Wrap the bay leaf, parsley stalks and thyme in a small square of muslin and tie with kitchen string to form a pouch. Add to the pan with the water.
2. Cover and bring slowly to the boil over medium heat. Reduce the heat slightly and simmer for 1 hour.
3. Meanwhile, heat the oil in a large frying pan over medium-low heat. Cook the leek, parsnip, carrot and celery for 10 mins, stirring often, until tender.
4. Transfer the vegetables to the stockpot. Simmer for a further 1 hour.
5. Remove from heat. Carefully transfer the chicken to a board (in pieces if necessary). Cool slightly, then remove and discard skin and bones. Coarsely chop the meat.
6. Return the chicken to the soup. Season. Sprinkle with parsley leaves.
Comments
Commenting has been turned off.