20 February 2020 | Wine | Redman Wines
How long do grapevines live?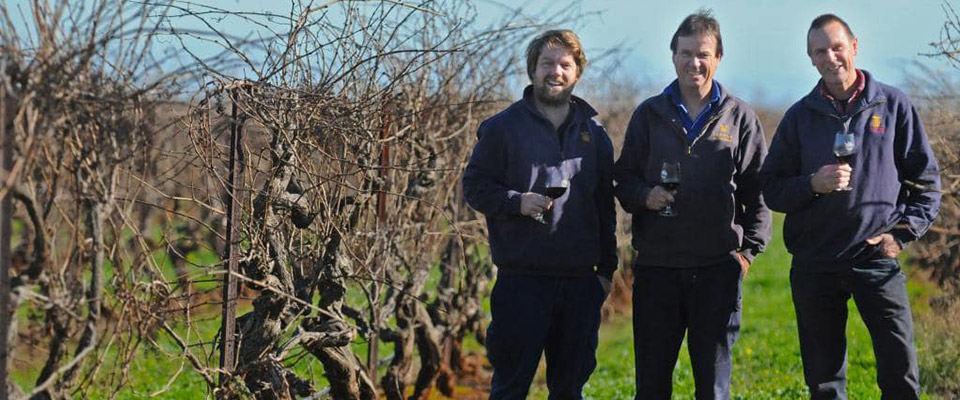 Australia is fortunate to have some of the oldest continually thriving vineyards in the world, and Redman Wines has some of the oldest grapevines growing in Coonawarra. We're often asked by visitors how we've been able to maintain these vines so successfully and how long they're likely to survive. Here are some of the answers.
Why are old vines so valued by wine growers and wine drinkers?
Apart from the prestige surrounding old grapevines and their place in Australia's winemaking history, there are many practical reasons they are so highly valued. While vines produce less fruit as they age, the fruit they do produce tends to be more concentrated, leading to a more concentrated wine. The longer they live, the deeper their roots, so older vines are also less likely to be adversely impacted by drought conditions or variations in temperatures, leading to less variation from vintage to vintage. They also ripen more consistently. And, just as with anything else that manages to grow to a 'ripe old age' – an old vine is likely to be a healthy one.
What is the definition of an 'old vine'?
This isn't an easy question to answer, as it can vary around the world, and even from region to region. In fact, there's no universal legal definition of what constitutes an old vine. That said, it's worth noting that grapevines can live for more than 125 years, with their yield tending to decrease gradually once they've reached about 20-25 years of age. The French term for old vines is vieilles vignes (literally, 'old vines'). You'll often see this written in French or English on wine labels, indicating that the wine within comes from notably old vines.
So why do some vines live longer than others?
There are a number of elements that come into play here. Geography is an important factor – some regions are simply harder to grow grapes in than others. This can be due to a region's topography, soil structure and drainage, as well as its weather conditions, such as humidity levels or extreme temperatures. So grape growers need to ensure they've picked the optimum site for specific grape varietals and type of clones they're intending to plant. For example, grapes generally need well-draining soil, appropriate levels of rainfall and reliable hours of sunshine to thrive.
How Australia's remote location saved our vines
One of the chief reasons Australia's grapevines have endured is that they avoided the phylloxera louse epidemic, which wiped out almost all the grapevines across Europe in the 1860s. This infestation was brought about by the introduction into Britain and Europe of American rootstock collected in the 1850s. Unlike the American rootstock, the European strains of vines had no natural resistance to this epidemic. Our island continent's geographical isolation from this devastating plague was largely responsible for our vines avoiding the same fate.
A long history of careful cultivation
Australia's rich winemaking and viticultural history dates back to the early 19th century, with the country boasting some of the world's oldest grapevines, cultivated in some of the oldest and most complex terroirs in the world. In fact, some of this country's treasured grapevines are more than 150 years old. The survival and stamina of these rare old-vine assets are thanks in a large part to the special sites on which they grow, many of them historic in their own right. They're also testament to the generations of dedicated winemaking families who have long cultivated and cared for them. These unique vines and the grapes they produce have played – and continue to play – a pivotal role in Australia's grape and wine community. They're behind some of the country's most extraordinary wines and have helped shape some of Australia's classic wine styles. As these classic wines continue to pay homage to the country's winemaking past and look to the future, it's an exciting time, both locally and globally, for Australian wine.
Where are Australia's old-vine wine regions?
Australia has the largest selection of old-vine material in the world. Scattered across the country in some of our most renowned wine regions, these vines have been nurtured for generations and are the basis for many of this country's most memorable wines. Among Australia's major old-vine regions are South Australia's Barossa Valley, Clare Valley and Langhorne Creek, and the Hunter Valley in NSW (Australia's oldest wine region). Others include the Nagambie Lakes, Great Western and Rutherglen in Victoria, McLaren Vale in South Australia and the Swan Valley in Western Australia.
How old are the vines in Coonawarra?
John Riddoch planted some of Coonawarra's oldest vines in 1890, upon the advice of our great-great-grandfather William Wilson. The Coonawarra region started its vinous journey by exporting fortified wines in the late 19th century and providing the basis of many of Australia's most famous wines through the 1930s, 40s and 50s, before establishing itself globally as the fine-wine producing region it is today.
How old are the Redman Vineyards?
The Redman family's connection to Coonawarra goes back to 1908, when Bill Redman established a winery using grapes grown by the Redman family, and fruit from other local growers. His son, Owen, joined the family business and for many years the Redman family was the sole red-wine producer in the region. Many of the Redman vineyards have been planted by Owen Redman since the 1960s. We still have one original row of shiraz in Hoff's vineyard that was planted in the 1890s. When Owen purchased John's Block, he discovered 400 riesling vines scattered throughout the block that are more than 60 years old and still going strong. Now, the next generation continues to expand our plantings with small parcels of vineyards scattered throughout Coonawarra.
Try a wine made from some of our oldest vines
The Last Row Shiraz is handcrafted from parcels of old-vine shiraz from Northend Block, which has 85 year old shiraz vines. Our 2016 William Wilson special-release wine is a shiraz cabernet blend paying homage to one of Coonawarra's unsung heros and ancestor to the Redman and Balnaves families. The shiraz for this ultra premium wine was also sourced from the old vines at our Redman Northend block.
Comments
Commenting has been turned off.