13 December 2018 | Recipes | Redman Wines
Fig and Beetroot Salad with Goat's Cheese Dressing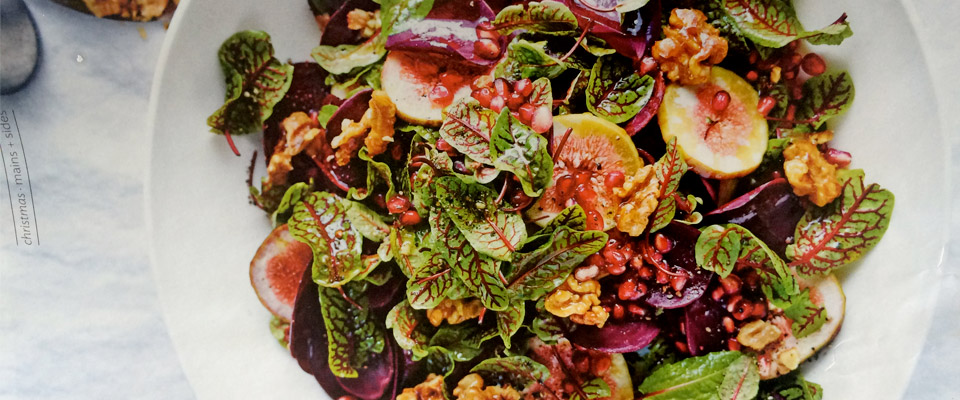 The earthy beetroot, sweetened walnuts and creamy dressing in this salad make it the perfect accompaniment to your Christmas ham, lamb, pork or beef. Pour yourself a Redman and enjoy!
Ingredients:
190g walnuts
30ml maple syrup
8 baby beetroots, trimmed and thinly sliced on a mandolin
1 tbsp good quality olive oil
1tbsp while balsamic vinegar
1 pomegranate, seeds removed
6 figs, sliced
4 handfuls baby red-vein sorrel leaves
Goat's Cheese Dressing
150 grams soft goat's cheese
125ml milk
1tsp white balsamic vinegar
Method:
1. Preheat oven to 180°C.
2. To make the goat's cheese dressing, place goat's cheese, milk and vinegar in a small food processor and process until smooth. Set aside.
3. Mix walnuts and maple syrup in a small bowl to combine. Place on a lightly greased small oven tray lined with non-stick baking paper and cook for 8-10 mins or until lightly toasted. Set aside to cool.
4. Mix the beetroot in a large bowl with the oil, vinegar, salt and pepper and toss to combine. Top with the walnuts, pomegranate seeds, fig and sorrel, toss gently to combine and drizzle with the goat's cheese dressing.
Image credit: The Big Oven
Comments
Commenting has been turned off.