9 December 2020 | Visiting | Redman Wines
Exploring Mt Gambier
Mt Gambier is located along South Australia's stunning Limestone Coast, 450km south-east of Adelaide and a 45-minute drive from Coonawarra. Explore the magnificent natural wonders of volcanic craters, lakes, and caves all in close proximity to the vibrant city centre, which offers a range of restaurants, cafes, shopping, and entertainment. It's a town we love to visit, so here we share our top tips for the best things to see and do in Mt Gambier.
What to do in Mount Gambier
Blue Lake
No visit to Mt Gambier is complete without a trip to the spectacular Blue Lake. The 75-metre-deep lake is located in the crater of the dormant Mount Gambier (Ereng Balam – meaning 'eagle hawk') volcano complex, part of the UNESCO-endorsed Kanawinka Geopark. The colour of the lake changes seasonally – from December to March it's a vibrant cobalt blue, while in winter it turns steely grey. However, it's beautiful year round, with local walks in the surrounding landscape.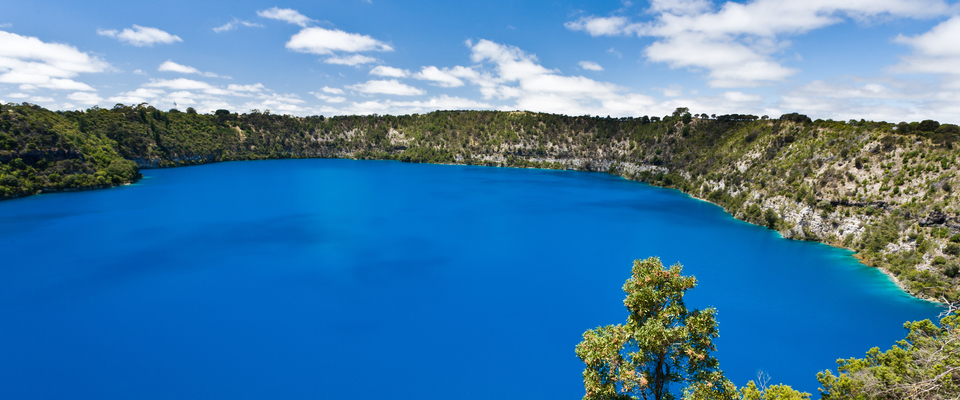 Blue Lake, Mt Gambier
Umpherston Sinkhole
The Umpherston Sinkhole – or the Sunken Garden – is an exquisite garden created inside a collapsed limestone cave. Open at all times, there are viewing platforms along the top and stairs leading down to the base. A kiosk offers a selection of refreshments and souvenirs, but we recommend packing a picnic to enjoy in the peaceful surroundings.
Cave Garden
Situated in the centre of the city, the beauty of the Cave Garden can be appreciated from the viewing platforms hanging dramatically over the sinkhole. Every evening Aboriginal Dreamtime stories are narrated through a light show in the cave. Beautiful roses are a stunning feature of the historic garden – a state heritage area – and on rainy days, a spectacular waterfall cascades over the garden edge.
Piccaninnie Ponds Conservation Park
Crystal-clear water has slowly filtered through the limestone over thousands of years to form these striking Ponds. If diving's your thing, an entire underwater world awaits you. If you prefer to stay on land, you can walk along the beach to the freshwater springs or take the trail past the coastal wattle and silky tea-tree through to the Southern Ocean.
Treehouse Adventure Centre
Looking for a family-friendly outing? The Treehouse Adventure Centre is Mt Gambier's only dedicated children's indoor playcentre. Catering to children of all ages, the centre has three play zones featuring climbing walls, inflatables, pedal go-karting, and basketball. While the kids are playing, friends, family, and carers can relax with a coffee or a bite to eat in the café.
Where to Eat in Mt Gambier
Grab a bottle of wine from the Redman Cellar Door en route or enjoy a local drop from one of the many fantastic restaurants in Mt Gambier. There's a few must visit dining locations, but many you'll need to book in advance during the busier months of the year.
The Barn
The Barn offers award-winning accommodation on a property dating back to 1877. There are few more passionate about a great steak than the Cleves family, who source the wagyu for The Barn's Steakhouse Restaurant from the Hereford cattle raised in the region. Their wine list showcases over 750 entries, the vast majority from local wineries along the Limestone Coast. Nothing pairs with steak quite like a rich Coonawarra Cabernet, and many on their extensive wine list have been carefully cellared until perfection.
Commodore on the Park
Commodore on the Park offers accommodation and dining overlooking the picturesque Frew Park. Open for breakfast, lunch, and dinner over 7 days, their à la carte menu focuses on local produce, with cheese from Robe Dairy, pork from Beachport Berkshires, wagyu beef from Mayura Station, and seafood from Coffin Bay. Their coffee is also supplied by Mt Gambier locals Bricks & Mortar.
Metro Bakery & Café
Toni and Theo started out with a coffee and sandwich shop but have grown into a bakehouse, two cafes, and a bar. The exceptional baked goods on offer at Metro are all made in-house, and they also offer a range of gluten free alternatives. Pop in for a coffee and croissant – each carefully folded according to their secret 100-year-old traditional French recipe.
Cafe Melzar
Tucked away in Engelbrecht Lane, Cafe Melzar offer a sweet and savoury all-day breakfast menu with additional lunch options from 11am. Their thoughtful menu emphasises customisation to suit all dietary requirements, along with a separate vegan menu. Try their homemade vanilla bean infused coconut panna cotta with toasted granola, or their homemade lentil + cauliflower burger with roasted capsicum, grilled haloumi, tomato, lettuce, aioli and beetroot relish.
Presto Eatery
A vibrant local eatery serving breakfast, brunch, and lunch over 7 days. In 2019 Presto were awarded South Australia's Best Regional Breakfast Restaurant and Best Regional Café Dining. Their diverse menu includes the weekend classics of the big breakfast and burgers alongside Buddha bowls and seasonal specialities. Pair your meal with a local beer, wine, or one of their carefully curated cocktails.
When you've finished exploring the best of Mt Gambier, why not take a drive to the Redman Cellar Door? Only a short 40-minute drive away, you can explore Coonawarra's finest wine and stock up on your favourites while you're in the region.
Comments
Commenting has been turned off.