17 October 2017 | Recipes | Redman Wines
Deb Redman's Paella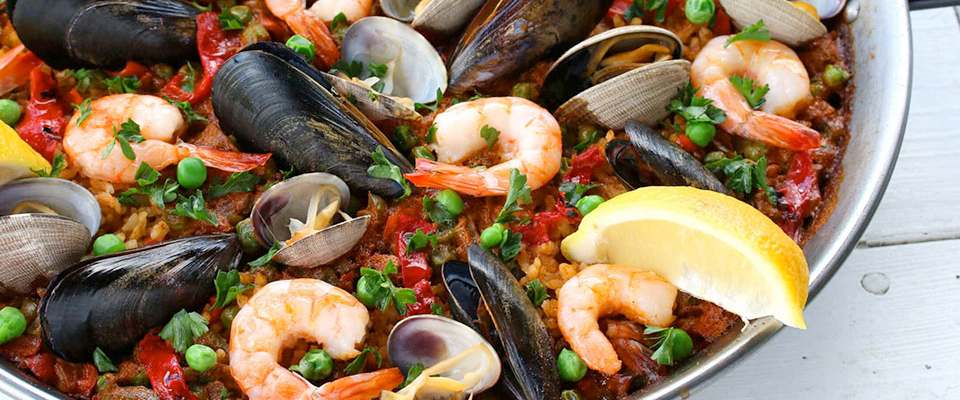 Who doesn't love a good paella? Deb Redman's paella recipe is legendary in our neck of the woods! The arrival of warmer weather heralds the perfect time for this dish, so grab your friends, whack a bottle of red in the fridge for 30 minutes (yes, serve it at 16-18C!) and enjoy this classic Spanish culinary treat.
I prepare everything in advance so that flavours infuse in the sofrito and I'm not in the kitchen when the crowds arrive.
Sofrito:
Mix together the following and put in the fridge for a few hours 2 red onions chopped
• 2 red capsicums chopped
• 4 cl garlic crusheds
• 4 ripe tomatoes
• Herbs freshly picked and chopped – parsley, chives, thyme
• 4 tsp smoked Spanish paprika Jar Piquillo chopped
Other Ingredients:
• Crayfish freshly caught by Mal and Dave on HMS Edna
• 1 kg prawns and mussels
• 1kg chicken cubed
• 4 chorizo sliced
• 3 cups paella rice
• 2 cups peas
• 7 cups Fish stock
• Parsley and Lemons
Method:
1. Brown chicken and chorizo in a little oil in paella pan. Remove and drain.
2. Put sofrito in pan. Add rice and coat.
3. Return chicken and chorizo to pan.
4. Add stock and stir to combine. DO NOT STIR AGAIN FROM THIS POINT SO THAT A CRUSTY BASE FORMS
5. Bring to the boil and then simmer (about 30 mins)
6. Add seafood by gently tucking in.
7. Sprinkle peas in.
8. Serve with parsley and lemon
9. Also a chilled (16-18C) Redman 2015 Shiraz.
Comments
Commenting has been turned off.