The Redman Family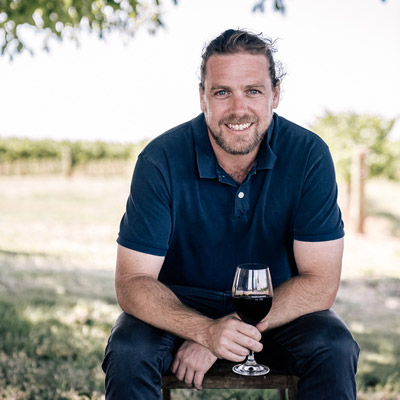 Mike Redman
Mike is Redman's cellar hand. Mike grew up in Coonawarra and completed his first vintage at Wynns straight out of school. After this he worked in McLaren Vale, then as a croupier in Adelaide, a water-ski instructor in the U.S., and a childcare worker in the ski fields of New Zealand before returning to Coonawarra to join the family business in 2015.
Mike particularly enjoys the demanding work of vintage. In 2020, Mike and his brother Dan bought into the family business, ensuring the continuity of Redman Wines for years to come. Mike says: "Having Redman Wines in Coonawarra for another generation just makes Dan and I so happy. Dad (Bruce) and Mal have done such a great job in building the brand and they will be brilliant mentors well into the future. It's a very exciting time for our family-owned winery."
Mike recently became engaged to his longterm girlfriend, Millie. They live in Penola with their dog Pippa. Mike is an avid surfer, golfer, and passionate follower of the local Penola football team. Like his father and brother, Mike is also a member of the Coonawarra Country Fire Service. You can often find Mike in the Cellar Door, humbly chatting to visitors about the family winemaking story.
Mike's favourite Redman wine is the Last Row Shiraz. Sourced from their oldest vineyard, he enjoys it because it's a slightly different offering from the Redman range. He loves hearing people share their experiences with Redman wines.
Mike's best wine tip? If you like it, buy it!