Redman Family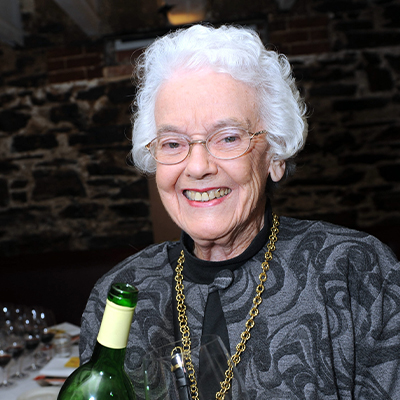 Edna Redman
Schooled at Port Augusta Higher Primary School, there was little choice of subjects at the secondary level, so she was compelled to do a commercial course. One of her school reports noted that she was "the best commercial student in the school." – skills that would no doubt help her in the future at Redman Wines!
Edna excelled in shorthand, and had always wanted to live in Adelaide, so after leaving school, she took the Commonwealth Typists exam and was appointed to the Postal Services branch at Murray Bridge. She worked there for three years before being she was transferred to Adelaide to work as a Machine Telegraphist at the General Post Office during World War II. After the war, Edna returned to Postal Services and was promoted to the Postal Investigation Unit.
Edna met Owen Redman at a wedding in 1950, and they were married at Scots Church not long after in 1953. Edna left her role at Postal Services to move to Coonawarra to join her husband at theon the Redman farm and winery. This was thee beginning of a strong and successful partnership.
Edna and Owen had three sons – Bruce, Duncan and Malcolm (aka Mal). The young family eventually moved to Adelaide to so the boys could be enrolled in school. However, when the Redman family sold the Rouge Homme winery to Lindeman's in 1965, Edna and Owen bought the neighbouring vineyard from Arthur Hoffman and they started to produce their own wine under the Redman label in 1966.
During this time, Owen commuted to Coonawarra for one week out of each month, and for four to six weeks during vintage. The pair also spent many years on the road during the 1970s and 1980s promoting their wines, and Edna became widely respected in the wine community for her work marketing the brand. Edna worked in the Cellar Door and actively helped out in the vineyard, which was very ahead of her time.
During this time, Edna was also involved an active member of the Presbyterian Church, and subsequently the Uniting Church. She attended the Scots Church and was a member of the Presbyterian Fellowship Association. In recognition of her charity work, Edna received a Medal of the Order of Australia (OAM) for her services to the Spastic Centre of South Australia.
Loved by all the family, Edna was the ultimate grandmother and great grandmother. Sadly, Edna passed away in 2015 and is remembered as a true regional treasure who is very much missed by her family and community. Her true spirit lives on through the next generations of the Redman family… and our wines.
When we launched our first rosé wine in 2018, we unanimously decided to call the wine Edna's Rosé in her honour.