The Redman Family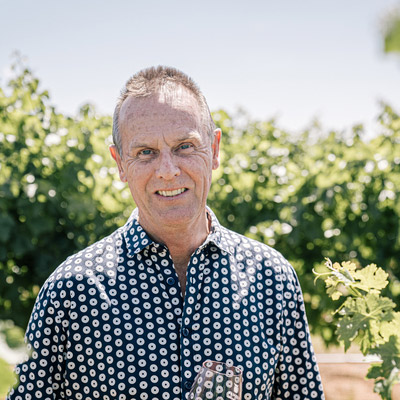 Mal Redman
Mal was born in Coonawarra in 1959. The Redman family moved to Adelaide a few years after Mal was born, and most of his schooling was at Scotch College. After leaving school, Mal worked with the Hardy Wine Company for four years before returning to Coonawarra for his first vintage at Redman. Mal first vintage coincided with his father's last vintage in 1981, and in 1982, Mal and Bruce took over the responsibility for winemaking at Redman winery.
Like Bruce, Mal enjoys making wine in the traditional method: hand pruning vines, picking grapes based on their taste, and hand plunging three times a day.
In addition to winemaking, Mal took a trade as a fitter and turner, and is able to fix anything and everything around the winery. He loves the variety of work involved in running a winery and having a hand in all facets of the business. When he's not at work you can often find Mal on the golf course or looking for crayfish in Robe.
Mal is married to Deb Redman, and together they own the winery dog, Billy. They also own and lovingly restored the local Coonawarra Cottages, a short stroll from the Redman Wines Cellar Door.
Mal's best wine advice: "It's all about personal taste and preference – what's trash to one person is treasure to another."
Mal's proudest wine moment: "In 1990, the film Sweet Talker was being made at Beachport, and many well-known Australian actors were around the area at the time. One day, Chris Haywood (not Hemsworth) came into the Cellar Door for a tasting, and happily purchased a 6-litre Imperial bottle of Cabernet Sauvignon. After explaining that ideally this wine should be cellared for around 20 years, I asked if he had plans to put it away. He grinned and replied, "Yes, I reckon I'll put it away this Sunday."