The Redman Family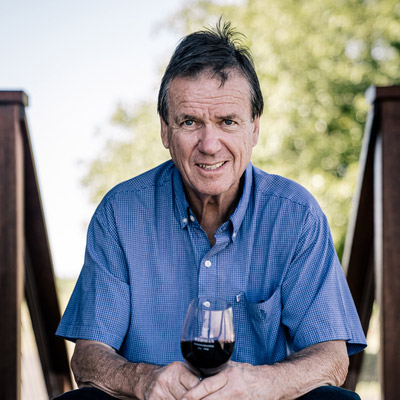 Bruce Redman
Bruce was born and bred in Coonawarra. He came into the world at Old Penola War Memorial Hospital in 1954 and later attended Penola Primary School before heading to Scotch College in Adelaide. Bruce has vivid memories of being in the winery with his father Owen and grandfather Bill when he was very young, because he always loved the smell of the winery at vintage time.
Bruce finished school and studied oenology (winemaking) at the prestigious Roseworthy Agricultural College. Bruce worked vintages at Reynella and Krondorf before venturing overseas. He spent two years abroad refining his craft before returning to Coonawarra to join his father and brother at Redman in September of 1981.
This was a fascinating time for Redman Wines. Rouge Homme – the precursor to Redman – had just been sold, Bruce and Mal's father Owen retired, the brothers completed their first vintage together in 1982, and Bruce's first child, Dan – now the fourth-generation winemaker at Redman – happened to be born in the middle of their very first vintage!
Mindful of the tradition of winemaking that their father and grandfather passed down, Bruce and Mal decided early on that they wanted to be hands-on winemakers. Bruce loves working in a family owned and operated winery because he gets to experience the winemaking process from start to finish – from grape growing to seeing the finished product in the Redman Cellar Door.
As an active member of the Australian wine community, Bruce has served a number of roles on Wine Australia Boards and has travelled extensively promoting Coonawarra wine. In 2019, Bruce was awarded the honour of Coonawarra Patron for his services to winemaking in the region for over forty years.
Bruce has been heavily involved with the Coonawarra Vignerons Association (now the CGWI) since its inception. He has served as Secretary, Vice President, and twice as President. He is currently the CGWI Treasurer. He has also been on the Coonawarra Cup Committee, Roadshow Committee and Limestone Coast Wine Industry Council as well as chairperson for the Barrel Series.
Bruce is married to Winnie, and together they have two sons: Dan and Mike. Dan and Mike bought into the family business in 2020, ensuring the continuity of Redman Wines for years to come. Bruce loves a round of golf, travelling, and spending time with his grandchildren.
Bruce's best wine advice? "Always drink what you like, not what the experts say you should be drinking."