Back Vintage Cabernet Sauvignon 6
Limited Release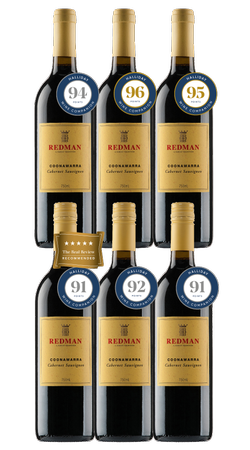 These are Nick Ryan's tasting notes for each wine from the 50 year tasting in July 2023.
2014 Redman Cabernet Sauvignon
Fragrant lift, violets and mulberries in aromatic abundance. Deep set fruit supported by an intricately constructed internal frame. Lithe and sinewy across the palate, a sophisticated swathe of micro-fine tannins driving the wine through a long finish.
A beautiful wine at a beautiful point in its development.
2015 Redman Cabernet Sauvignon
Violet florals float upwards, blackberries and mulberries yield sweet juice. A wine you just want to swirl and sniff for hours. Thankfully its palate pleasures deliver on the aromatic promise. Fine framed and sinewy, layers of dark berry fruit unfurling in succession before finely knit, powdery tannins pull everything together in a tight taper. Lovely length.
2016 Redman Cabernet Sauvignon
Fragrant and fleshy. Beautifully shaped and sustained. Ripe black fruits, some cocoa dust and dark earth. A touch of skinsiness lurking beneath. It's firm at the edges, muscular in the middle and long-tailed at its end. Will age beautifully.
2017 Redman Cabernet Sauvignon
Violets wafting towards geraniums. Some leafiness but it doesn't slide into greenness. It was never going to be a particularly muscular or opulent wine, and it handles its finer framing well. Slightly tacky edge to the tannins, pert freshness to the acidity.
2018 Redman Cabernet Sauvignon
Gorgeously fragrant and characterful cabernet. A raft of dark berries, a beautifully polished whiff of cedar, a bonded adherence to the classic elements of Coonawarra cabernet. Poised and precise, with a focus on sinewy flesh and fully resolved, intricately entwined tannins.
2019 Redman Cabernet Sauvignon
Black fruits with a softly savoury edge reminiscent of tapenade and bay leaves. Cedar and bracken supporting that too. Lithe and sinewy shape through the palate, an espresso seam of oak running through it.
Tight, fine tannin frame, with dark fruit draped around it.
Wine Specs
Varietal
Cabernet Sauvignon
Product Reviews