2015 Shiraz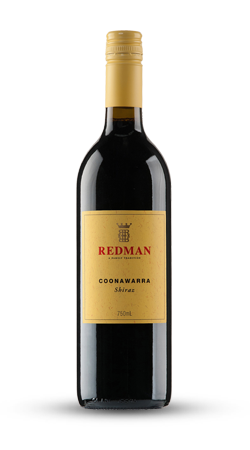 Viticulture
Redman Shiraz is made from grapes grown on vines that are over forty years old, and carefully hand pruned, on the Redman family vineyards in the heart of Coonawarra. From a seasonal point of view, April to July 2014 provided an excellent start with average winter rainfall which set us up for an even budburst with good soil moisture. Spring however was not typical, being very dry and one of Coonawarra's warmest, with temperatures well above average advancing flowering in November by about 2 weeks. Very dry conditions continued through December. Ripening was set up perfectly with the vines receiving a refreshing drink of 90 mm of rain in mid-January. The grapes were harvested from the second week of March through to the first week in April.
Winemaking
After being mechanically harvested and crushed in the field, carefully monitored fermentation, using specially selected yeast, was carried out in open concrete and stainless steel fermenters. The wine was matured in American and French oak hogsheads for twelve months prior to bottling in February 2017.
Tasting Notes
COLOUR: Dark red with purple hue.
BOUQUET: Pepper and spice and dark red fruit nose with hints of vanilla oak.
PALATE: The full weight palate shows dark fruit, firm tannins and balanced acidity. The bright finish is clean with lingering flavour.
Product Reviews